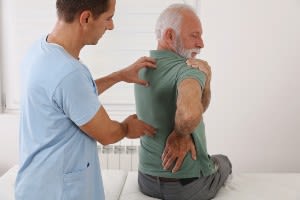 While victims may sustain injuries to other body parts during an auto accident, spinal injuries are usually the most severe. Furthermore, they are among the most frequently reported injuries in car accidents. Unfortunately, spinal injuries are impossible to ignore. They can cause debilitating pain, even immobility, and difficulty breathing. Several types of spinal injuries can result from car accidents, and the severity of each injury is unique. 
 Get your case reviewed today by a Southeastern Pennsylvania spinal injury lawyer during a free consultation. Until then, learn more about the types of spinal injuries that may occur in car accidents. 
Whiplash Injuries
The most common spinal injury caused by car accidents is whiplash. It is mainly considered a neck injury, but it can also have serious effects on the spinal cord. The whiplash victim may also endure more than one type of spinal injury, which can aggravate the complications resulting from a whiplash injury. 
People who suffer from whiplash can also end up with a condition called chronic whiplash. This occurrence is yet to be fully understood by medical professionals but can cause emotional and physical harm to the injured party for the rest of their life.
Herniated and Ruptured Disc Injuries
Your vertebrae protect and house the spinal column. Between each vertebra are discs that prevent the bones from rubbing together or against your nerves. An auto accident may alter or tear the discs, or even cause them to rupture. If that occurs, either herniated or ruptured discs may result. Radiating pain and numbness can be experienced throughout specific areas of the body (normally the limbs). 
In milder cases, it may be possible to correct the problem without surgery, and instead with conservative treatment management such as rest or chiropractic care.  
Spinal Fractures and Spondylolisthesis
Car accidents may rapidly shift the body to one side then the other. Under such pressure, the spine can suffer a compression fracture. Car accident victims may suffer both a spinal fracture and spondylolisthesis (a condition caused by the movement or pressure of a fractured vertebra on the spinal column). 
Victims with these conditions may notice numbness and discomfort in certain parts of the body, as well as bladder control issues. Surgery, physical therapy, spine immobilization, and rest may be part of a treatment plan for someone with a spinal fracture or spondylolisthesis. 
Spinal Cord Injuries
By far, spinal cord injuries are the most harmful of all spinal injuries. Even though the spine itself is repairable, there is not yet a viable method to replace or repair the delicate nerves it protects. Because of this, victims must rely on experimental treatments and clinical trials to treat their injuries or hope that their injuries don't turn out to be as severe as anticipated. Either way, spinal injury victims often require increased amounts of support, treatment, and guidance.
Facet Joint Injuries
Joints in the human body enable us to bend, twist, and move. Facet joints connect the vertebral segments and lubricate the joints. Tragically, these joints are often damaged in car accidents. Victims may need to undergo surgery, physical therapy, facet injections, chiropractic treatment, and radiofrequency ablation procedures, depending on their level of pain and discomfort. A compensation award may be owed to victims for any medical expenses and absence from work. In some cases, victims may also be able to obtain an award for their pain and suffering. 
Spinal Stenosis
Although it is not directly caused by a car accident, spinal stenosis can become symptomatic after a crash. Consequently, an already deteriorating spine may worsen from the accident. Injured individuals might be entitled to compensation, but proving their injuries will likely require the assistance of an experienced Pennsylvania personal injury lawyer. A qualified personal injury attorney can guide you through the process. 
Contact Our Pennsylvania Spinal Cord Injury Lawyers Today!
Spinal injuries are very costly, and you shouldn't be responsible for the expense. To obtain financial compensation for spinal cord injuries, your lawyer must prove to the insurance company that your condition wasn't pre-existing and was caused by negligence of another party. If you have been hurt in a car accident and are looking for an experienced and compassionate lawyer in Southeastern Pennsylvania who has helped thousands of victims, contact Rubin, Glickman, Steinberg & Gifford today. 
Our attorneys have been serving injured accident victims throughout the counties of Montgomery, Bucks, Lehigh, Chester, Delaware, and surrounding areas for over 65 years. If you can't travel to one of our offices in Colmar, PA and Newtown, PA, we can meet with you in your home or hospital. Call 215-822-7575 or complete our online contact form today.