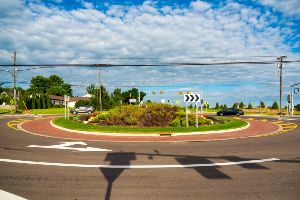 Throughout Pennsylvania, stop lights and intersections plagued by traffic accidents are being replaced with roundabouts by the state. Not to be confused with traffic circles, modern roundabouts are designed to operate more efficiently for pedestrians and drivers while incorporating flared entries and yield to the circulating traffic. 
Research concluded by Pennsylvania's Department of Transportation (PennDOT) concludes that roundabouts are some of the safe intersection alternatives for drivers and pedestrians. Roundabouts are smaller than traffic circles, but they offer more visibility and moveability for those entering the intersections. Overall, the decreased rates of traffic accidents alone make roundabouts an excellent choice for public safety and prosperity. 
How do Roundabouts Alleviate Pennsylvania Car Accidents?
While Pennsylvania is introducing more and more roundabouts throughout its cities and neighborhoods, many residents are curious about the positive effects these new alternatives offer. Many wonder if these additions will cause disturbances in areas that are unfamiliar with the rules and regulations. Still, the studies by PennDOT show positive results in these areas: 
Reduces the Risk of Crashes
According to PennDOT's research, fatalities at the studied locations decreased by 100%, and the total number of crashes dropped by 21%. One of the main contributors to the decreasing car accident statistics is the reduced possibility of right-angle and head-on crashes—which can cause severe injuries and fatalities. 
Improve Traffic Flow
Unlike a traffic light, drivers yield to vehicles already inside the circle, but they don't always stop. This allows drivers to continuously move through traffic without long delays in their speed or waiting for a light to turn green. While the person already in the roundabout has the right of way, still pay close attention to those entering at the same time as you. 
Environmentally Friendly
A surprising statistic that positively affects the communities with roundabouts is how eco-friendly they are. Because drivers don't have to stop for extended periods, the exhaust emissions from stopped vehicles aren't as high as at a traffic light or four-way intersections. 
With more and more research studies pointing to the benefits of roundabouts, there may be more of these alternative intersections in Pennsylvania. However, staying safe and following the rules of the road is just as important.
How to Drive in a Roundabout Safely
While these additions are safe and efficient, many people rarely encounter roundabouts and may feel frightened when entering one. To protect yourself and others, pay close attention to the following roundabout tips: 
Yield to those inside the roundabout

Approach the intersection cautiously

Signal your intent when driving

Enter the second lane only if you're taking the farthest exit
Following these guidelines will play a significant role in your and others' safety. If you find yourself in an accident resulting from someone not following the rules of the road and acting negligently, contact a personal injury lawyer as soon as possible. 
When Should I Contact a Southeastern Pennsylvania Personal Injury Attorney?
Statistics show that roundabouts have low accident rates, but that doesn't mean they never happen. A personal injury attorney helps advocate for your rights and intentions during legal processes. The following are a few examples of how a personal injury attorney can help you:
Inform and answer questions

Gather evidence from injuries and accidents

Manage negotiation and settlement offers

Supervise preparations for the case
When you sustain injuries because of another person's negligence, you may be entitled to compensation for lost wages, medical fees, and other financial losses. Working with a personal injury lawyer can provide you with proper guidance through the legal process. 
Trust Southeastern Pennsylvania Attorney's for Your Personal Injury Settlement
Accidents happen to everyone, but they often come with medical fees and other financial hindrances. When you or a loved one suffers from injuries due to the carelessness of another, proper compensation for the harm is reasonable and just. 
Our team at Rubin, Glickman, Steinberg & Gifford is passionate about providing clients with proper representation and guidance through their personal injury settlement process. For over 65 years, our firm has worked hard to offer clients accessible communication and the best possible outcome for their circumstances. 
Call 215-822-7575 or fill out our online contact form for more information about our services and to discuss your personal injury case with one of our experienced attorneys.