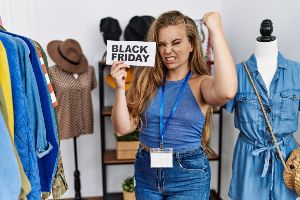 When it comes to shopping, not a single day of the year is as hectic and frenzied as Black Friday. The day after Thanksgiving is the biggest shopping day of the year. Hordes of people flock to stores across America hoping to score the best deals on products for themselves and everyone on their holiday shopping lists. Unfortunately, the large crowds and chaos associated with Black Friday can lead to unsafe environments. You should be aware of the common crimes that occur on Black Friday so that you will be prepared to shop smart this year. Involved in a Black Friday crime? Contact our criminal defense lawyers for legal representation today.
Crimes that are More Likely to Occur on Black Friday
The hysteria of Black Friday can lead many people to do things they may not normally do, including committing crimes. If you are trying to get a great deal on Black Friday, avoid committing one of these five crimes that commonly occur on the craziest shopping day of the year:
Assault and Battery
The nature of Black Friday can lead to hotly contested struggles over different items. You might find yourself pushing and shoving while running into a store, or you might become angry at the person in front of you that purchased the last item on the shelf. This usually leads to physical assault, which can carry heavy fines and even jail time if serious injury occurs.
Theft
No matter how great the deal is, there will always be the temptation to take the item or items. The temptation is intensified by the unruliness and distraction that comes with the Black Friday crowds. Stores and security are aware of theft attempts during these hours and will prepare accordingly. Punishment for theft in Pennsylvania depends on the cost of the item. If the item is worth less than $2,000, theft is a misdemeanor. If the item is worth more than $2,000, theft is a felony charge that is punishable by up to seven years in prison.
Inciting a Riot
Black Friday usually consists of long lines of people, limited stock of items, and identical objectives. These elements can combine to create a mob of angry customers who do not always react reasonably. Instigating a riot is a misdemeanor in Pennsylvania, but it could also be tacked onto disorderly conduct charges.
Fraud
Indeed, Black Friday deals typically are too good to miss. Some people try to pay with money they know they do not have. Check fraud and credit card fraud are first-degree misdemeanors, punishable by up to five years in prison and a $10,000 fine if you are convicted. Depending on the severity of the fraud, you may also be facing a felony.
Destruction of Property
The same impulse and stress that causes Black Friday shoppers to react violently to one another can also manifest in destruction of store property or vandalism. These charges carry penalties that are commensurate with the value of the property that was damaged. The higher the cost, the higher the penalty. The penalty for destruction of property usually consists of fines.
Contact the Criminal Defense Attorneys at Rubin, Glickman, Steinberg & Gifford, P.C.
If Black Friday did not go as planned and you have found yourself charged with a crime, our experienced team of defense attorneys at Rubin, Glickman, Steinberg & Gifford, P.C. has the knowledge and resolve to help. Our skilled attorneys can evaluate the facts of your case and advise you on all of your legal options. To schedule a free consultation, you can call (215) 822-7575 or visit our website.