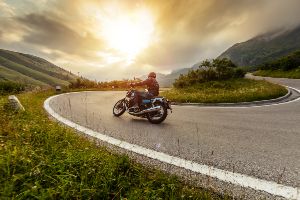 Motorcycles are an exhilarating way to get from one place to the next, and motorcyclists can enjoy scenic and exciting drives. With over 350,000 motorcycles registered in Pennsylvania, this mode of transportation is popular amongst drivers. While motorcycles can be exciting, they also can be dangerous. A motorcycle accident can occur when you least expect it. If you have been injured in a Southeastern Pennsylvania motorcycle accident, you should contact a motorcycle accident lawyer to get help with your claim.
5 Facts That May Surprise You about Motorcycle Riding in Pennsylvania
Riding a motorcycle safely takes a lot of knowledge and skill. You need to have a good understanding of how the motorcycle works, and you need to practice driving the motorcycle. While many motorcycle riders are educated on topics concerning their bikes, the following five facts may surprise even the most seasoned Pennsylvania motorcycle riders:
All Motorcycle Riders Are Not Required to Wear a Helmet
In Pennsylvania, some riders are not legally required to wear a helmet. Any rider or passenger who is under the age of twenty-one must wear a helmet, but anyone twenty-one years of age or older may choose not to wear one. While it may not be legally required to wear a helmet, it is strongly recommended that all riders and passengers wear a helmet for their safety.
Motorcycle Injuries Can Be Serious or Permanent
Motorcycle accidents can be highly damaging, even deadly, for the victims involved. Common motorcycle accident injuries include:
Head injuries or traumatic brain injuries
Broken or fractured bones
Crushed limbs
Tissue damage
Burns
Loss of limbs
Cuts and lacerations
Loss of sight
Loss of hearing
Back, neck, and spine injuries
Paralysis
Internal bleeding
Death
If you have suffered an injury from a motorcycle accident, you may want to speak with an experienced attorney.
Motorcyclists Are More Likely to Get Injured in Accidents
Due to the lack of protection motorcycles provide for drivers and passengers, motor vehicle accidents can be especially damaging to those who are on a motorcycle.
Motorcycle Drivers Are Responsible
Many people unfairly stereotype all motorcyclists, believing that motorcyclists are reckless and irresponsible on the road. Much to people's surprise, many motorcycle accidents are caused by other reckless or negligent drivers of automobiles.
Motorcycle Safety Courses Are Available
For new drivers or drivers who want to brush up on their skills, there are motorcycle safety courses to help drivers get comfortable before they take to the roads. It is recommended that all motorcycle drivers try to take a safety course to reduce the risk of getting into an accident.
Contact a Motorcycle Accident Lawyer Today at Rubin, Glickman, Steinberg & Gifford, P.C.
Rubin, Glickman, Steinberg & Gifford, P.C., has a team of skilled motorcycle accident lawyers who help clients in Southeastern Pennsylvania. If you or a loved one have been injured in a motorcycle accident, you may be owed financial compensation for your injuries. To get help with your motorcycle accident claim, contact a Southeastern Pennsylvania lawyer.
Rubin, Glickman, Steinberg & Gifford, P.C., has over sixty-five years of experience helping clients who have been the victims of motorcycle accidents. Our knowledgeable attorneys know how overwhelming the Pennsylvania claims process can be, and we are proud to provide dedicated representation to our clients. To schedule a free consultation, contact us here or call (215) 822-7575.