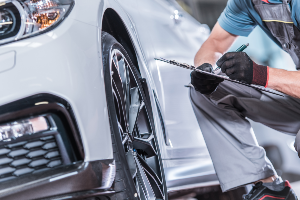 Many states require drivers to undergo safety and regulatory vehicle inspections on an annual or bi-annual basis. Inspection failure results in a rejected inspection sticker, and if you fail to complete an inspection or have expired vehicle safety inspections, your automobile insurance can be affected, and you may even be subject to penalties like fines.
Further, some drivers operate vehicles with noncurrent inspections or failed vehicle inspections despite being prohibited by law. When vehicles fail to meet safety standards, motor vehicle accidents can happen and cause serious personal injuries or fatalities. So, what happens in the case of a car accident? And how is the concept of liability affected as a consequence?
The Rubin, Glickman, Steinberg, and Gifford personal injury lawyers provide the information you need about Pennsylvania's auto inspection regulations. Feel free to reach out to our legal team for any additional information. We have offices in Montgomery or Bucks County and can discuss your case at no cost.
Purpose of Vehicle Inspections in Pennsylvania
Vehicle inspections function to remove car defects by inspecting all vehicles periodically and ensuring that any detectable flaws or malfunctions are fixed before a driver can operate on public roads. In other words, vehicles must meet safety and emissions standards to qualify as "roadworthy."
First things first, it is important to know how car inspections work in Pennsylvania. You must receive a safety inspection after registering a new car in the state. The inspection is required each year when you renew your vehicle registration. An inspection must be conducted at an official service station or repair shop operated by PennDOT, and the fees may range anywhere between $50 and $100 per inspection. Lastly, you should know the penalties for not complying. If you get pulled over for a moving violation and you don't have an inspection sticker, or your sticker has expired, an officer can cite you for failure to complete the inspection. The fine is $500.
What Leads to a Failed Inspection?
When inspecting a vehicle, the Pennsylvania Department of Transportation requires multiple functions and parts to be assessed. This is what is indicated on their website:
"Safety inspections for passenger cars and light-duty trucks require that the following items be checked: suspension components, steering, braking systems, tires and wheels, lighting and electrical systems, glazing (glass), mirrors, windshield washer, defroster, wipers, fuel systems, the speedometer, the odometer, the exhaust systems, horns and warning devices, the body, and chassis."
Review the PennDOT PUB 45 for more information about safety inspections in Pennsylvania.
Essentially, when your car is rejected because it failed inspection, it did not meet certain specifications based on the inspections performed. The failure of an inspection places you on notice, essentially giving you a set period of time after the date of the inspection to resolve the issue. In the absence of a passing score, you will not be legally permitted to operate your vehicle.
How Do Failed Inspections Affect Car Accident Cases?
An inspection failure does not usually impact your case, nor does it warrant additional liability on the other driver's part. But this is not always the case.
Failure to comply with inspection requirements hardly explains why a driver hits you. A failed inspection has little bearing on the driver's actions or inactions that lead them to strike your vehicle. It's even possible there's no connection between the other driver's failed inspection and why you were hit.
Now, a driver who violates the law and creates unnecessary danger for others by driving a vehicle with detectable safety risks may be held liable if:
The accident was caused by a defective car part or certain safety issue that affected how the car operated and performed on the road, and;
The driver knew this but still chose to drive on the road.
Trusted Legal Representation For Pennsylvania Car Accident Victims
Those harmed in a car accident caused by a driver who failed their vehicle inspection can face significant physical, emotional, and financial hardship. Too often, insurers present accident victims with settlement offers that fail to fully cover their injuries and crash-related losses. The attorneys at Rubin, Glickman, Steinberg, & Gifford can investigate the cause of your crash to determine liability, negotiate with insurance companies, and explain your legal options and rights.
Rubin, Glickman, Steinberg, & Gifford is a prominent personal injury and accident law firm that has served Pennsylvania and the surrounding communities for more than 65 years. Our car accident attorneys strive to achieve top results in your case. To schedule a free case review with an experienced personal injury lawyer, complete a contact form or call today at 215-822-7575.