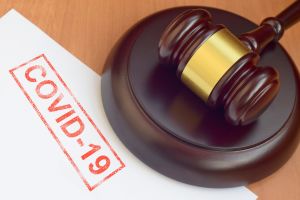 The daughter of a resident of the Life Care Center, a nursing home in Kirkland, Washington, is among the first families in the country to file a nursing home negligence suit related to the COVID-19 pandemic after her mother contracted and died of the disease at the facility.
Family of Washington Nursing Home Hit Hard by Coronavirus Files Wrongful Death Suit
Deborah de los Angeles filed the suit in Washington state last week, alleging the wrongful death of her mother, Twila June Morin, who was a resident of the Life Care Center. The facility has made national news for being one of the early hotspots of the coronavirus outbreak in the U.S. — to date, there have been 129 cases of COVID-19 and 37 deaths associated with the facility. De los Angeles alleges that she found out Morin had contracted COVID-19 on March 3 and was notified by voicemail 22 hours later that Morin had passed away from the disease. Morin suffered from dementia and autoimmune disease.
Nursing Home Facility Alleged to Have Inadequate Response to Outbreak
De los Angeles' suit alleges that Life Care Center was aware of a respiratory outbreak among residents and staff as early as January but failed to develop or implement "a clear plan of action leading to a systemic failure." The suit alleges that the facility failed to quarantine residents and continued to hold parties and allow visitors into the building. The suit further alleges that the facility waited 17 days to report the outbreak of respiratory disease to local authorities, when regulations required nursing homes to report any suspected outbreak within 24 hours. De los Angeles further alleged that a facility employee informed her that the resident physician had not been on site for weeks.
De los Angeles' suit alleges that Life Care Center had an inadequate response to the COVID-19 outbreak within its facility, including failing to provide its staff with proper personal protective equipment or training to mitigate the spread of disease, and failing to have proper planning in place when the disease began to spread among residents and staff.
After performing a complaint survey, investigators from the federal Centers for Medicare and Medicaid Services ruled that Life Care Center no longer met the requirements for service providers in the Medicare program. Specifically, CMS concluded that Life Care Center had failed to quickly identify and manage sick residents, notify the Washington Department of Health of a suspected outbreak, or have an alternate plan for health care when the facility's primary clinician became sick.
Nursing Homes That Fail to Take Steps to Address COVID-19 May Be Liable for Harm
The story at Life Care Center is one of several stories across the country involving outbreaks of novel coronavirus at nursing home facilities, facilitated by those facilities' failures to identify ongoing outbreaks or to take steps to address outbreaks or the potential of an outbreak. When a nursing home fails to have adequate policies and procedures in place to address a COVID-19 or other outbreak of infectious disease and fails to take steps to prevent the spread of illness, the facility may be held liable for negligence or wrongful death when residents suffer harm from or succumb to communicable illnesses.
Contact a Colmar Nursing Home Negligence Lawyer to Discuss Your Case Today
Seniors in nursing homes and other care facilities deserve to be treated with respect and dignity. Additionally, nursing home staff needs to ensure that patients are safe and secure at all times. If your loved one suffered harm or injury due to nursing home negligence in Pennsylvania, you need to speak with a qualified attorney. The experienced nursing home negligence attorneys at Rubin, Glickman, Steinberg & Gifford, P.C. represent clients throughout Pennsylvania, including Norristown, Doylestown, Lansdale, and King of Prussia. Call (215) 822-7575 or fill out the online contact form to schedule a free consultation today. We have an office conveniently located at 2605 N. Broad St., Colmar, PA 18915 , as well as an office in Newtown.
The articles on this blog are for informative purposes only and are no substitute for legal advice or an attorney-client relationship. If you are seeking legal advice, please contact our law firm directly.