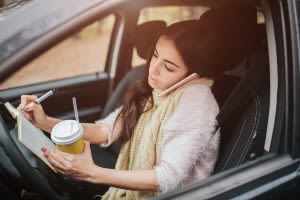 In Pennsylvania, distracted driving accidents are incredibly common. While most people are quick to assume cell phone use is the primary cause of distracted driving accidents, there are a variety of behaviors that fall into this category. In fact, cell phone use often masks the prevalence of other kinds of distracted driving that equally contribute to car accidents. 
If you have been injured in a car accident as a result of another driver's negligence or distraction, you should seek legal counsel. A skilled personal injury attorney will examine all the factors surrounding your case and ensure you receive a fair compensation package or settlement. Here are some of the frequent causes of distracted driving not involving a cell phone. 
What Are Distracted Driving Behaviors?
The National Highway Traffic Safety Administration regularly publishes reports on driving safety and the factors involved in car accidents. In a report they published in 2020, they detailed the effects of distracted driving in fatal traffic accidents. The report defines distracted driving as any situation in which drivers "divert their attention from the task of driving to focus on another activity." 
While this report did find that cell phone use was a common cause of car accidents—specifically under the age of 40—more than 80 percent of distracted behaviors came from another source. Some examples of other kinds of distracted driving behaviors include:
Conversing with other vehicle occupants

. This also includes situations in which passengers attend to children or pets in the back seat.

Adjusting vehicle components.

This includes scenarios when the driver makes any changes to the radio, heat, air conditioning, GPS systems, mirrors, etc. 

Objects within the vehicle.

In some instances, groceries or other objects getting thrown around in the back of the car can be a distraction to drivers. 

Distractions outside the vehicle

. This includes any situation in which a driver is not looking at the road and rather is distracted by animals, scenic views, and other roadside attractions. 

Eating and drinking.

If a driver's hands are not on the wheel because they are eating and drinking, it can count as distracted driving—even if they have their eyes on the road. 

Daydreaming

. Sometimes, a driver's thoughts may be elsewhere and as a result, they may not be focused on driving. 
These are just a couple of behaviors that can be considered distracted driving. As stated in the report, distracted driving can include any activity that diverts a driver's attention from the road. 
Evidence of Distracted Driving
When you have been involved in an accident in which you saw that the driver was distracted, it is essential to work with an attorney in a timely manner to ensure you can collect the proper evidence to show the driver was distracted or negligent. While in some cases, the driver may admit to their distracted driving behaviors and it will be documented in the police report, in most cases you will often need to seek other evidence. Working with an attorney is the best way to  secure the evidence you'll need, such as witness statements from anyone who watched the crash occur, photographs of the vehicles, and any available camera footage that could show the circumstances leading up to the collision. 
Get Help from an Experienced Pennsylvania Personal Injury Lawyer Today
If you have incurred any injuries from a car accident as a result of distracted driving, you should secure expert legal counsel.  A skilled personal injury attorney can negotiate with the insurance companies, collect essential evidence, and ensure you are fairly compensated for your injuries. At Rubin, Glickman, Steinberg & Gifford, our personal injury attorneys are committed to securing compensation for our clients' medical costs, property damage, and lost wages. 
For over 65 years, our personal injury attorneys have advocated for our clients' best interests in Montgomery County and throughout Pennsylvania, recovering millions of dollars for our community members. To schedule a free case review with a skilled personal injury lawyer, complete a contact form or call today at 215-822-7575.