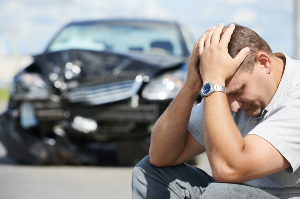 During a car accident, your mind is racing a million miles a minute, and you don't know how to control your thoughts. You're thinking: is my car damaged? Whose fault is it? Do we need to call the cops? While assessing the car crash, it's vital to stop for a second and evaluate how you feel. Check for any visible injuries, such as lacerations, burns, swelling, bleeding, scrapes, or broken bones. Even if you appear injury-free, car accidents are known for producing concussions, traumatic brain injuries, and spinal cord injuries. So why is it that some people don't feel pain?
Initially, your body goes into "flight or fight" mode. This is also referred to as an "adrenaline rush," which can mask the onset of pain or injury. This can be extremely dangerous to your health and later impact your personal injury claim in Pennsylvania. Read on to discover more about how adrenaline affects the body after a car accident.
What Happens When Adrenaline Kicks In?
Sudden emotional or physiological trauma stimulates a series of chemical reactions in the body, such as that immediate feeling of panic and worry. Your body's response boils down to the release of adrenaline and activation of endorphins. These biochemical hormones help you cope with major crises by redirecting your body's resources to prepare you for these threatening circumstances. Some of these changes include:
Rapid heart rate
Increase blood flow to muscles
Elevated awareness
Heightened oxygen to muscles
Hysterical (temporary and instant) strength
Since adrenaline warns the body of such threats or demands, it may temporarily block out pain. This sensation is known as "stress-induced analgesia," and it can be alarmingly deceptive. An accident victim may dismiss how they're truly feeling, leading to further problems if serious injuries are left unnoticed and untreated.
Obtain the Medical Care You Need after a Car Crash
By understanding how your body reacts to stress and the key actions of adrenaline, you will recognize the importance and seriousness of obtaining medical care in the aftermath of a car crash. Receiving a full medical screening can help determine any invisible injuries that may have been masked due to your body's automatic response. A qualified physician can provide you with the right diagnosis, treatment plan, and anticipated effects and challenges of your injuries.
In addition, your medical documentation and doctor's recommendations can be used to protect your right to compensation from the liable party. Putting off or denying treatment will only make it more challenging to connect your injuries to the accident, giving insurance companies an upper hand when disputing liability.
Contact a Pennsylvania Car Accident Lawyer Today
Accidents are stressful, and your body's natural way of processing such situations often diverts your attention to the event itself rather than your pain or injuries. A comprehensive medical examination is needed to identify specific issues and rule out the possibility of other complications. Delaying treatment because your symptoms do not surface immediately may result in your disqualification from financial compensation. If you're unsure of what steps to take after a crash, your safest bet is to talk to the seasoned car accident lawyers at Rubin, Glickman, Steinberg & Gifford P.C.
At Rubin, Glickman, Steinberg & Gifford, our priority is you, and that means engaging in the course of action that protects your rights and maximizes your claim. Get in touch with our legal team by completing our contact form or calling 215-822-7575 today.