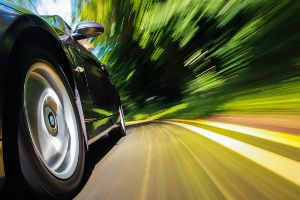 Speeding is a significant factor in 26 percent of fatal car accidents, yet people break this traffic law daily. While it may not seem like a big deal to go a few miles over the speeding limit, speeding can be detrimental to the safety of all drivers on the roads. 
The award-winning car accident injury lawyers at Rubin, Glickman, Steinberg, and Gifford are dedicated to helping victims of accidents in the southeastern Pennsylvania region that may have been caused by speeding. Since speed-related accidents happen quickly, it can be difficult to prove liability; however, there are ways to gather proof and build your injury claim. 
How Onboard Electronic Systems Can Provide Evidence
If you are familiar with the "black box" that is made for airplanes in the event of a crash, most modern-day vehicles have their version of this called an Electronic Data Recorder, or EDR. The data recorded on this device can be downloaded by using the vehicle's diagnostic link detector. In the event of a crash, an EDR can provide the following:
Speed before and during the time of impact

Steering input

Acceleration

Brake pedal data, including if and when brakes were applied
Dashboard cameras can also provide useful evidence in the case of a car accident, but privately owned cars rarely have this type of onboard electronic system. Most vehicles are equipped with navigational systems, and satellite information may be helpful as they can show if someone was speeding. 
Check for Evidence at the Scene of the Accident
It is very rare that an at-fault driver will openly admit to speeding after an accident has occurred. While their insurance company may even support their claim, you cannot argue with the evidence, and there will likely be crucial evidence at the scene of the crash. The following are some common things to look for and take photos of as soon as possible:
Skid Marks:

Depending on how deep and long, an expert may be able to determine how fast the driver was going, when and if they tried to brake, and how long it took the vehicle to come to a stop.

Damage to Your Vehicle:

Collision ratings, provided by car and truck manufacturers, serve to provide information on how much damage would occur at different speeds. 

Road Debris:

Experts may be able to determine speed by measuring how far debris was flung from the location of the accident. 
Witness testimonials are another option that could be useful in building your claim, and always be sure to make a police report at the scene of the crash. 
What Should I Do after I Have Been Hit by a Driver Who Was Speeding?
Your health and safety should be at the top of your priority list following a car accident. While it is also important to gather as much evidence as you can, you should always assess your condition following the crash. Immediately following a car accident, complete the following steps:
Call emergency services

Check yourself for injuries

Take pictures of any damage, proof of speeding, or visible injuries

Exchange contact information with the other driver

File a police report
The next big step is to contact an experienced car accident lawyer to help you build your claim. 
Get Help with Your Claim from Southeastern Pennsylvania Lawyers
Trying to prove that another driver's speeding led to a car accident can be difficult, but it is not impossible. When a driver speeds, it makes it difficult for them to control a vehicle. This negligence is one of the most common causes of severe and fatal car accidents. 
With over 65 years of experience serving the southeastern Pennsylvania area, the car accident injury lawyers at Rubin, Glickman, Steinberg, and Gifford may be able to help you with your claim. Offering clients dedicated care for each case, you can rest assured that our talented team will tirelessly work to help make this process as stress-free as possible. For a free consultation, contact us here or call (215) 822-7575.