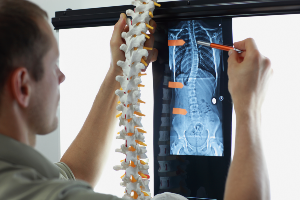 According to the Mayo Clinic, car accidents are one of the most common causes of spinal cord injuries in the U.S. Spinal cord injuries can be life altering as well as extremely expensive. If you have sustained spinal injuries from a car accident, you may be entitled to compensation for not only your medical bills but also loss of wages or quality of life. Partnering with a skilled personal injury lawyer is the best way to ensure your rights are upheld and you are not taken advantage of by an insurance company. Here is some helpful information on how to deal with spinal cord injuries after a car crash.
How Car Accidents Cause Spinal Cord Injuries
The sudden, forceful nature of car accidents causes many victims to incur spinal cord injuries. Motor vehicle accidents can result in a sudden blow to the spinal cord or any of the surrounding tissues. This trauma can either cause vertebrae to break or the tissues to become crushed, irritated, or dislocated. These injuries can eventually lead to pressure or damage of the spinal cord, which can cause damage to the nervous system and affect motor function. The impact of spinal cord injuries varies greatly depending on the severity of the trauma, the location of the injury, as well as the overall health of the person who was injured.
Seek Prompt Medical Attention
If you have been involved in a car accident, it is important to seek prompt medical attention. Even if you do not have immediate symptoms or obvious injuries, it is still crucial for you to see a medical expert to ensure there is no unseen damage. Additionally, many injuries—including spinal cord injuries—present symptoms days after an accident occurs.
The effects and symptoms of spinal cord injuries vary, depending on where the spinal cord was damaged. Some potential side effects include:
Difficulty or pain with breathing or coughing
Loss of bowel or bladder control
Muscle spasms
Loss of feeling
Paralysis
These are just a few of the symptoms or side effects a person with a spinal cord injury may experience. In many cases, a spinal cord injury can have a lasting impact on a person's ability to live normally and even earn a livable income. If you have incurred a spinal injury as a result of another driver's negligence, you should work with a skilled personal injury lawyer to ensure you are properly compensated.
Work with a Lawyer to Receive Compensation for Your Spinal Cord Injury
While there will never be enough money to fully repay a victim for the effects of a spinal cord injury, a fair settlement can provide some much-needed relief. When you work with an attorney, they will look at all of the factors surrounding your accident and determine all the damages for which you deserve compensation. In addition to compensation for any accident-related medical bills, you may be able to receive compensation for the following damages:
All future accident-related medical bills
Emotional and psychological pain and suffering
Punitive damages against the negligent party
Present and future lost wages
Property damage
Unfortunately, insurance companies tend to lowball settlements and rarely have a victim's best interest at heart, which is why it is best to have an experienced personal injury lawyer on your side.
Get Help from an Experienced Pennsylvania Personal Injury Lawyer Today
If you have incurred a spinal cord injury as a result of another driver's negligence, you should secure expert legal counsel.  A skilled personal injury attorney can negotiate with the insurance companies, handle the claims process for you, and ensure you receive the compensation you are entitled to. At Rubin, Glickman, Steinberg & Gifford, our car accident attorneys are committed to securing full and favorable compensation for our clients' medical costs, property damage, and lost wages.
For over 65 years, our personal injury attorneys have advocated for our clients' best interests in Montgomery County and throughout Pennsylvania, recovering millions of dollars for our community members. To schedule a free case review with a skilled personal injury lawyer, complete a contact form or call today at 215-822-7575.