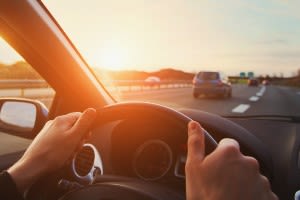 When most people think about distracted driving, they think about texting and driving. While it is true that cell phones are one of the most common culprits of distracted driving, there are many other ways drivers can be distracted. According to a report from the National Highway Transportation Safety Administration, distracted driving includes any activities or behaviors that take away your attention from driving. 
With summer right around the corner and COVID restrictions lifting, more people will be back on the road. This makes intentional, focused driving essential for staying safe on the roads this summer. If you experience a car accident, it is important to contact a skilled personal injury lawyer. An experienced attorney can determine if you are entitled to any accident-related compensation. Here are some tips for how to stay safe on Pennsylvania roads this summer. 
Keep Your Eyes on the Road
Whenever you look away from the road—whether it is because you are talking to a friend or reaching for something in your purse—you increase your chances of getting into an accident. To keep safe, it is best to avoid these kinds of distractions to make sure your eyes do not wander. 
Keep Your Hands on the Wheel  
While this may seem obvious, many people do not always keep both hands on the wheel. Whether it is eating a burrito, trying to grab something out of your purse, or changing the radio station, there are many distracted driving behaviors that result in only one hand on the wheel. To keep yourself safe, it is best to pull over and park before attending to any manual distractions.
Stay Alert 
Many people drive when they are sleepy or distracted. Whether you are deep in thought about something or thinking of all the chores and tasks you need to do when you get home, cognitive distractions can cloud your ability to drive safely. Therefore, it is best to avoid driving when you do not feel like you can give the road all of your attention. 
Turn Off Your Phone 
The best way to avoid the temptation of texting and driving is to turn off your phone before you get in the car. While your friends and family may have gotten used to being able to contact you when you are on the road, texting and driving is one of the most common causes of car accidents. Even if you do not want to completely turn off your phone, adjusting your settings to delay receiving calls and texts until you arrive at your destination will help prevent you from getting into an accident.  
Take Care of Your Car
Whether you are planning an extended road trip or simply plan on being on the road a fair amount this summer, it is important to perform routine maintenance on your cars. Checking the tire pressure, fluids, and oil will make sure your car is at its top performance. Additionally, getting your car checked out by a mechanic can help you catch any underlying problems that could pose potential dangers. 
Get Help from an Experienced Pennsylvania Personal Injury Lawyer Today
If you have recently been involved in a car accident as a result of another driver's negligence, it is important to take action in a timely manner. Working with a skilled Pennsylvania personal injury lawyer is the best way to determine the best strategy for receiving the compensation you are entitled to. An experienced attorney can examine all the factors surrounding your case and develop a successful approach for the claims process.  At Rubin, Glickman, Steinberg & Gifford, our personal injury attorneys are committed to securing compensation for our clients' medical costs, property damages, and lost wages.  
For over 65 years, our personal injury attorneys have advocated for our clients' best interests in Montgomery County and throughout Southeastern Pennsylvania, recovering millions of dollars for our community members. To schedule a free case review with a skilled personal injury lawyer, complete our contact form or call today at 215-822-7575.