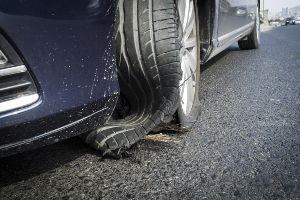 If you have ever been on a drive and had a tire blow out, you know just how frightening that experience can be. While a tire blowout may not be the first thing that comes to mind when considering what may have caused a car accident, tire-related accidents are more common than one would think. In fact, in 2019, it was reported that Pennsylvania had recorded 915 tire-related crashes, making up 36 percent of all vehicle crashes in the Key Stone State that year. 
While having a tire blowout may seem as simple as pulling to the side of the road and contacting AAA, an experienced car accident injury lawyer will tell you just how dangerous a tire blowout can be. Rubin, Glickman, Steinberg, and Gifford are an experienced team of injury lawyers that have handled various types of car accident cases, including those caused by tire blowouts. The truth is that tire blowouts can be highly deadly as they often cause the car or other vehicles to spin out on the road. 
What Are Common Causes of Tire Blowouts in Pennsylvania?
There are many reasons a tire may blow out while driving through Pennsylvania. The most common causes of tire blowouts include:
Hot Weather:

The hot summer months in Pennsylvania are not friendly to tires. The heat makes roadways hot, causing tires to overheat and blow, especially if the tires are worn or old. 

Inadequate Maintenance:

Rotating your tires and replacing them when your current tires become thin or old, is vital in preventing your tires from blowing out. 

Under or Overinflation:

All tires have an ideal air pressure for maximum performance. If your tires are underinflated or overinflated, you are at greater risk of having them blow out. 

Heavy Loads:

If you are in the process of transporting a heavy load, the stress could be too much on your tires, causing them to blow out. 

Sharp Objects in the Road:

If you run over a sharp object, like a nail, it can cause a slow leak of air in your tires, inevitably causing them to blow. 
These are just a few of the most common causes of tire blowouts in Pennsylvania. Regardless of how your tires blow out, an experienced car accident injury attorney will be able to help you build your claim for any damages you may be owed. 
Common Injuries Caused by Pennsylvania Tire Blowouts 
Being involved in any motor vehicle accident may leave you with injuries. Some common injuries sustained in tire blowout-related accidents are: 
Spinal cord injury or paralysis

Traumatic brain injury

Severe lacerations

Crush injuries

Nerve damage

Loss of limbs

Broken bones or fractures

Burns

Head injuries

Death
Regardless of the severity of your injuries, an experienced injury attorney may be able to help you pursue compensation for any damages incurred as a result of the car accident. 
Southeastern Pennsylvania Tire Blowout Accident Lawyers Can Help
If you or a loved one has been the victim of an accident caused by a tire blowout, you may have suffered severe injuries as a result. If you choose to pursue a personal injury claim for the damages you may have suffered, seeking the help of a Southeastern Pennsylvania injury lawyer may be beneficial to building your claim. 
Rubin, Glickman, Steinberg, and Gifford are a team of car accident injury lawyers with experience helping clients who have been involved in tire blowout accidents. Serving clients in the Southeastern Pennsylvania region for over 65 years, we are proud to offer each of our clients compassionate legal counsel and representation. For a free consultation, fill out our contact form or call (215) 822-7575.