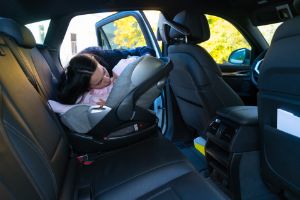 A child sustaining injuries during a car accident is a parent's worst nightmare. Car accidents can be disorienting and intensely overwhelming, depending on the accident's severity. However, when children are involved, emotions are always heightened. When an accident that harms a child is caused because another party behaved recklessly, parents may be entitled to receive compensation on behalf of their child.
Rubin, Glickman, Steinberg & Gifford, P.C. has over 65 years of experience helping injured car accident victims pursue the compensation they deserve. Our lawyers will guide your family through the legal process to help ensure you get the financial compensation you need for your child's recovery.
Common Injuries Children Sustain during an Accident
In any accident, it is crucial to seek medical attention immediately. However, when a child is involved, it is vital to get the child medical help as soon as possible. Getting prompt medical treatment improves the chances of avoiding long-term injuries for the child and provides critical information to build a claim against the at-fault driver. Here are some of the most common injuries children sustain during an accident.
Neck and Head Injuries
These injuries include concussions, whiplash, skull base fractures, and traumatic brain injuries. Severe traumatic brain injuries can be temporary or cause permanent developmental problems, behavioral problems, or cognitive difficulties.
Car Seat Injuries
Securing a child incorrectly or not at all can have dire consequences if an accident occurs. Additionally, the car seat may fail and cause injuries during the crash.
Airbag Injuries
Children seated in the front seat are more likely to be injured than those seated in the back of the vehicle. Airbags are not designed to protect children. They can slam into smaller children, breaking their noses or even the necks of smaller children.
Fractures
Children may suffer hand, wrist, and foot fractures while bracing for impact. A tightened seat belt may cause their pelvis to break.
Glass Injuries
A broken window or windshield may cause lacerations on the child's face. Additionally, shattered glass increases the risk of dental injuries and facial trauma.
Chest Injuries
Tightening restraints or contact with the seat in front of them may result in thoracic injuries, including rib fractures, lung injuries, and internal bleeding.
Permanent Disability
Injuries children sustain during an accident can have life-altering consequences. Traumatic brain injuries, spinal cord injuries, and nerve damage can lead to permanent disabilities. A child's life can be drastically altered after a severe accident.
When a child suffers injuries in an accident, parents want their children to have access to the best care possible. Unfortunately, depending on the severity of the child's injury, those costs can be overwhelming. An experienced Pennsylvania personal injury lawyer can help your family obtain the fair compensation owed to you to help ensure your child receives the best treatment for their injuries. Your family may be eligible for economic and non-economic damages to help your child and family recover from the accident.
Our Car Accident Attorney Can Help Your Family Recover Fair Compensation
If your child was injured because of another driver's reckless behavior, you might be entitled to financial compensation. To get help with your car accident claim, contact our experienced car accident lawyer to help you pursue the damages you are owed.
Rubin, Glickman, Steinberg & Gifford, P.C., has a team of skilled car accident lawyers determined to help car accident victims get the justice they deserve. Our firm has been assisting clients in Southern Pennsylvania for over 65 years. We are proud to provide award-winning representation for our clients. Fill out this form or call (215) 822-7575 to schedule a consultation with us today.