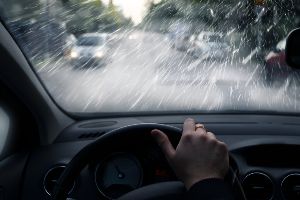 Driving during the wintertime is often rough and unpredictable. The change of seasons often comes with its challenges, especially to many drivers in Pennsylvania. It is no surprise that Pennsylvania was recently ranked the 5th worst state for driving during the winter according to Money Geek's review of the National Highway Traffic Safety Administration's Fatality Analysis. Surrounded by snow and ice during the winter months, driving conditions make it more complicated for drivers, especially those that are not prepared or experienced.
With harsh winters, car accidents and traffic often increase as people try to accomplish their responsibilities despite the inclement weather. At Rubin, Glickman, Steinberg & Gifford P.C., our experienced legal team has your back in personal injury and auto accident cases. Below, we cover more information about winter driving and how our legal team helps you in the case of an accident.
Why Is Driving Dangerous during the Winter?
There are many reasons why driving during the winter is often more dangerous than in other seasons. The National Highway Traffic Safety Administration (NHTSA) reported that in 2019, an estimated 440 fatal crashes and 33,000 injury crashes were due to winter weather and hazardous road conditions. Here are a few hazards of winter driving:
The weather can be unpredictable, with snow and ice making the roads treacherous.
Many drivers are not prepared for winter weather, leading to dangerous driving conditions.
Car accidents often increase in the winter due to slippery roads and limited visibility.
In Pennsylvania alone, 2020 reports showed over 5,000 crashes and 30 fatalities were due to snow, sleet, and freezing rain weather conditions. Unfortunately, these statistics add to why driving during Pennsylvania winters is among the worst in the United States. Here are some steps that people can take to better prepare for harsh weather conditions and ride out the winter months.
Tips for Driving Safely during Pennsylvania Winters
Many weather advisories offer advice to the public every year to ensure the safety of people in states with dangerous weather conditions. Here are some tips to drive more safely during the winter months.
Make sure your car is prepared for winter weather. This includes ensuring that your windshield wipers and defroster are in good condition, you have tire tread fit for snow, and that you have a full tank of gas.
Slow down when driving in winter weather conditions. Snow, ice, and rain can make the roads slippery, so driving at a reduced speed is a safer option.
Increase your following distance to at least four seconds. When driving in bad weather conditions, follow with enough space to avoid hitting cars in front of you in case there is a sudden stop.
Be cautious when turning. Curves or hills are often more dangerous due to black ice formation during the winter months.
Be aware of potential dangers. Be mindful of other drivers, passengers, and pedestrians while driving in inclement weather.
Following necessary measures like these listed helps Pennsylvania drivers be more aware of the dangers and needs of their vehicle to withstand the weather changes. In any case, when an auto accident is unavoidable and leaves you with loss and injuries, our dedicated legal team can help you win your claim.
Pennsylvania Car Accident Attorneys You Can Count On
When you are driving in the wintertime, there is an increased risk of getting into an accident because of unpredictable weather changes. At Rubin, Glickman, Steinberg & Gifford P.C., our legal team understands the dangers of winter driving and is prepared to help you if you are involved in a Pennsylvania car accident. Contact our car accident lawyers using our online contact form or give us a call at (215) 822-7575 to speak to our legal team to schedule your case review. With over 65 years of experience, our lawyers are prepared to help you solve your legal troubles and help resolve your auto accident case.