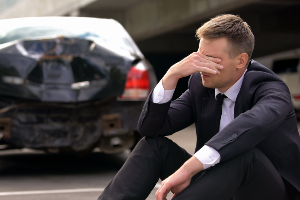 Pennsylvania has one of the lowest rates of uninsured motorists in the nation. However, in today's post-pandemic economy, some individuals may look at the rising costs of car insurance and choose to forgo it, hoping that luck will be on their side each time they get behind the wheel. Those who satisfy their legal responsibility to maintain insurance coverage can rely on a certain level of security. However, if they're involved in a collision with an uninsured driver, they may get stuck with exorbitant medical and repair bills and question how it will all get paid.
Read on to learn how to protect yourself from huge losses after a car crash with an uninsured driver in Pennsylvania.
Is My Insurance Enough to Cover Losses from a Collision with an Uninsured Driver?
While there is a minimum requirement for auto coverage that Pennsylvania motorists must carry, it may not be enough to cover the costs of damages after an accident with an uninsured or underinsured driver.
The minimum auto insurance requirements for Pennsylvania drivers are defined as follows:
Personal injury protection covers medical expenses for you, and anyone listed on your insurance policy, regardless of fault, up to $5,000.
Bodily injury liability pays for medical costs and damages that you are responsible for at up to $15,000 for one person's injuries or up to $30,000 for one accident.
Property damage liability covers another party's property damage in an accident you are responsible for up to $5,000.
It's important to note that Pennsylvania is a no-fault state for insurance, meaning each driver's insurance pays for their medical bills no matter who causes a collision. This no-fault insurance law makes it challenging to sue another driver unless the crash meets specific medical limits, such as disfigurement.
Can I Sue an Uninsured Driver after an Accident in Pennsylvania?
Suppose you're involved in a car accident with an uninsured motorist in Pennsylvania. In that case, your minimum insurance coverage likely won't be enough to pay for your property damage and medical expenses, especially if your injuries are significant. On the other hand, if you're responsible for the collision and carry the minimum amount of bodily injury insurance, that probably won't be enough to pay for the full cost of the other driver's medical bills.
Unfortunately, if the at-fault driver is uninsured, you may be stuck paying for all of your damages. While you can potentially sue the uninsured driver for compensation to cover your losses, they must own valuable assets for a lawsuit to be successful. In most instances, uninsured drivers do not have the financial resources to pay victims, so a lawsuit isn't a feasible option.
The best way to protect yourself from potentially losing thousands of dollars after a collision with an uninsured driver is to add uninsured and underinsured motorist coverage to your auto insurance policy.
How Does Uninsured & Underinsured Auto Coverage Work in Pennsylvania?
You can speak with your car insurance provider to learn what elective coverage options they have for uninsured motorist and underinsured motorist coverage. Here's how these additional coverages can protect you after a car accident:
Uninsured motorist (UM) coverage: If injured in a collision with an uninsured driver or a hit-and-run vehicle, this insurance covers the medical costs for you, any relatives living in your household, and passengers in your vehicle. It does not cover property damage.
Underinsured motorist (UIM) coverage: If injured in a collision with a motorist who does not have enough insurance coverage to pay for damages, this insurance covers medical costs for you, any relatives living in your household, and passengers in your vehicle. This coverage does not pay for property damage.
While this extra coverage will help protect you from excessive losses in medical expenses after an accident with an uninsured driver, you may still face hurdles recovering the just compensation you deserve from insurance companies. In some instances, you may have to fight for reimbursement from your insurer, a situation that nearly always requires the knowledge of an experienced Pennsylvania car accident lawyer.
What Steps Should I Take after an Accident with an Uninsured Driver in PA?
If you experience the unfortunate event of a collision with an uninsured driver in Pennsylvania, remember these steps to aid you in recovering the compensation you justly deserve:
Get an official police report of the accident. This report is necessary to recover compensation through your UM/UIM coverage.
Keep thorough records of all medical care and rehabilitative costs. That will be helpful should the insurance company dispute your claim.
Speak to an experienced car accident attorney who understands Pennsylvania's uninsured motorist laws.
While uninsured car accident claims may be challenging, a knowledgeable car accident lawyer will know how to utilize the protections offered to ensure car crash victims obtain fair reimbursement.
Consult an Experienced Car Accident Attorney in Montgomery County, PA for Free Today
If you or a loved one has suffered injuries in a collision with an uninsured driver in Pennsylvania, all hope is not lost. Get in touch with an experienced Montgomery County car accident attorney from Rubin, Glickman, Steinberg & Gifford. Our injury legal team compassionately offers expert counsel as we guide our clients on what strategies will yield the most favorable results.
For over 65 years, our firm has stood by clients in our Montgomery County communities and across Pennsylvania, helping them secure the financial recovery they need to move forward in their lives. To schedule a free consultation with a skilled personal injury attorney, complete a contact form or call 215-822-7575.