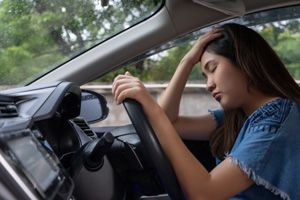 Any situation in which you face the prospect of losing your driver's license is not ideal. But there are several stops between losing your license totally and simply having it suspended or revoked. The state of Pennsylvania has a number of different scenarios where your license to drive can be temporarily taken away or, in the worst-case, taken away permanently.
If you or a loved one have had your license suspended or revoked, it is important to understand that there are avenues you can take to get your license back. The team of knowledgeable and understanding attorneys at Rubin, Glickman, Steinberg and Gifford, P.C. can help you restore your ability to drive.
Driver's License Suspension in Pennsylvania
As the name suggests, a driver's license suspension is the temporary removal of your ability to drive. Like most states, Pennsylvania operates on a "points" system when determining whether a driver's license will be suspended (or potentially revoked). Outside of accumulation of points, there are several reasons that your driver's license could be suspended, such as:
Refusal to take a DUI breath or blood test
Driving under the influence
Too many traffic violations
Not having insurance
Too many of speeding violations
Reckless driving charges
Failure to appear in court
Failure to pay a motor vehicle fine or other charge
Accumulation of points for violations
While most of these violations are driving related, your license can be suspended for other criminal or municipal charges. Just how long your license is suspended will depend on your violation. Pennsylvania suspends your license for 90 days upon the accumulation of six or more points. After that, the suspension rises to 120 days every time you accumulate six more points.
Driver's License Revocation in Pennsylvania
The main difference between a suspension and revocation of your driver's license is that the revocation is the complete termination of your license. ​​A revocation typically occurs for many of the same reasons a license can be suspended, but at a different level of severity or your violation is particularly egregious—such as fleeing the scene of a fatal accident or multiple DUIs.
While it may seem like a driver's license revocation is permanent, you should know that whether your license has been revoked or suspended, it can be restored.
How Do You Restore Your Driving Privileges in Pennsylvania?
When your license is suspended or revoked, there is a procedure in place for notifying you. This occurs when PENNDOT mails you a written notice, which begins the suspension process. From there, you will need to formally surrender your license to PENNDOT.  At that point, you can begin the process for restoring your driver's license, which includes:
Finish your suspension period
Obtain your restoration rights letter, either online or by mail
Follow all instructions in the restoration rights letter
Pay the reinstatement fee of $25 as well as any other outstanding fees or fines
Provide proof of insurance
Satisfy court requirements
If necessary, renew your vehicle registration
In the event that you cannot meet all of those requirements, you may appeal for a restricted license. This will allow you to drive to certain places for specific reasons, like work, doctor's appointments, or court appearances. This is under the discretion of the court.
Knowledgeable Pennsylvania Driver's License Restoration Attorneys
For most people, driving is an everyday necessity.  Whether it be getting to work to provide for your family or to the doctor to make sure you are getting the medical care you need, it is important to be properly licensed. If you are facing a license suspension or revocation, the expert attorneys at Rubin, Glickman, Steinberg & Gifford, P.C. can help. Their team will investigate your case in detail and work with PENNDOT to have your license returned to you as soon as possible.
For more than 65 years, our firm has been serving Montgomery County and Bucks County, as well as the surrounding areas. We have a proven track record of results for clients facing a diverse range of legal problems. To schedule your free consultation, call us at (215) 822-7575 or complete our contact form today.