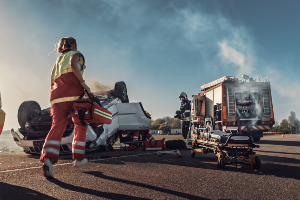 If you are involved in an accident, it is important to understand that there are certain actions (or lack thereof) that will protect you in the future. For one, it is important to know the things you should not say at the scene. While the stress and adrenaline during an accident can make assessing an accident challenging, it is essential to do the best you can to handle the accident properly.
Specifically, you do not want to make conclusions that are incorrect or publicly verbalize your thoughts, as they could impact future proceedings. While speaking freely at the scene of an accident is tempting, it is almost never a good idea.
If you have sustained injuries as the result of another driver's negligence, you may be entitled to financial compensation for your medical costs or property damage. Partnering with an experienced Pennsylvania car accident attorney can provide you with much-needed assurance and confidence in the claim process. Here is some important information about accidents in Pennsylvania.
How Common Are Accidents in Pennsylvania?
In Pennsylvania, approximately one in every 44 people is involved in a reportable traffic accident. Unfortunately, the chances of sustaining injuries from a car accident are high. Each year, over 4 million Americans incur injuries from car accidents that require medical attention. These injuries could be relatively minor—such as contusions—but they could also be more severe, such as in the case of a concussion or traumatic brain injury.
If you sustain injuries in a car accident—no matter how minor—it is important not jump to conclusions at the scene. A lot of injuries often present symptoms in the days following an accident. Therefore, it is important to not verbally communicate to the driver or officer that you feel fine or don't have any injuries.
Speaking with the Other Driver(s) Involved
It is not realistic to entirely avoid speaking with the other driver at a crash. In fact, you will have to converse with them to exchange things like your insurance information. However, it is best to keep your conversations to a minimum.
Saying things like "I'm sorry" or "I'm not hurt" can really hurt you down the line. These seemingly harmless statements can be misconstrued as admitting fault even if that was not your intent. This means that you need to be mindful of what you say not only to anyone directly involved in the accident but also to any surrounding witnesses who are present at the scene. If you decide later that you want to pursue a personal injury claim, these people may provide statements that can be used against you.
Talking with the Officers
It is also equally important to be mindful of any communications with officers at the scene. When communicating with officers, you will want to avoid appearing to accept responsibility for causing the accident. Communicating with police officers is usually trickier than communicating with other people involved in the accident, as they are likely to ask you a series of questions about what happened in the moments leading up to the crash. You will need to answer these questions carefully. If you cannot remember a detail or are not 100 percent sure about something they ask you, do not provide an explanation. Do your best to describe the accident as matter-of-factly as possible.
Get Help from an Experienced Pennsylvania Car Accident Attorney Today
If you have suffered injuries in a car accident in Pennsylvania, you will need to secure expert legal counsel. A skilled attorney can negotiate and handle the insurance companies for you. At Rubin, Glickman, Steinberg & Gifford, our car accident attorneys are committed to securing full and favorable compensation for our clients' medical costs, property damage, and lost wages.
For over 65 years, our personal injury attorneys have advocated for our clients' best interests in Montgomery County and throughout Pennsylvania, recovering millions of dollars for our community members. To schedule a free case review with a skilled personal injury lawyer, complete a contact form or call today at 215-822-7575.