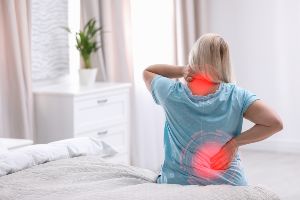 There are over 17,000 car accidents per day in the United States, and each car accident can wield very different results for the victims involved. While any damages you may suffer after a car crash can be detrimental, dealing with chronic pain can turn your everyday life upside down. 
The experienced injury attorneys of Rubin, Glickman, Steinberg, and Gifford have helped many clients who have suffered from chronic pain following a car crash build their personal injury claims. While chronic pain may feel like a lost cause, there are ways to deal with the pain to make it manageable. 
What Is Chronic Pain?
Many people may experience a type of temporary pain called acute pain following a car accident. This type of pain is often sharp and sudden and will lessen over time as your injury or ailment heals. On the other hand, chronic pain is more stubborn. Chronic pain is persistent and will continue indefinitely, sometimes long past your recovery from the initial injury. While doctors and scientists do not have a solid answer on why chronic pain occurs, it is known that chronic pain may have lasting effects on you and your life. Chronic pain may lead to the following changes:
Chemical changes to one's brain

Depression or withdrawal

Irritability towards friends and family

Reduced quality of life
If you or a loved one is suffering from chronic pain, know you are not alone. Many victims of car crashes suffer from chronic pain. An experienced injury attorney may be able to help you get compensated for any damages incurred from your pain. 
How to Deal with Chronic Pain after a Car Crash
Suffering from chronic pain can leave you feeling helpless. While you may feel powerless against your pain, there are strategies which may help you to manage it. 
Speak with your doctor regarding your pain:

You may have already talked to your doctor about the chronic pain you have been experiencing. If you have not, you need to speak openly with your doctors about the symptoms you have been experiencing. They may be able to refer you to a pain specialist or develop a treatment plan that may help manage your pain. 

Explore alternative treatment options:

Alternative treatment options may be helpful in the treatment of chronic pain. Some examples of alternative treatments are acupuncture, psychological counseling, relaxation techniques, or exercise. Consult with your doctor about exploring alternative treatment options.
Following a chronic pain diagnosis after a car accident, you may want to consider getting in touch with an experienced injury attorney. While an injury attorney can not physically help you heal from your chronic pain, they may be able to help you get compensation for any damages you have suffered as a result of that pain. For example, you may have extensive medical costs and bills piling up, but a personal injury attorney may be able to help you build a claim that could pay those costs off. 
Pennsylvania Car Crash Injury Attorneys Are Here to Help You
As the victim of a car crash, the damages you suffer may persist long after the incident occurred. If you have experienced chronic pain due to an injury you sustained after a Pennsylvania car crash, and you are filing within two years of the date of the accident, you may be eligible to pursue compensation for your damages. 
The car crash injury attorneys of Rubin, Glickman, Steinberg, and Gifford have experience helping crash victims who have experienced chronic pain build a personal injury claim. With over 65 years of helping car crash victims in Southeastern Pennsylvania, they offer their clients dedicated legal counsel and advocacy. For a free consultation, contact us here or call (215) 822-7575.