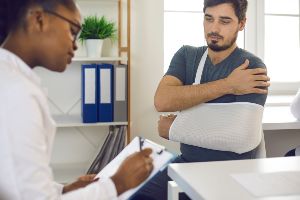 After an auto accident, it is important to see your doctor even if you have been to the hospital and started treatment for your injuries. When you visit your doctor after an accident, you may not know what to ask or may even be too shaken up to remember. Understandably, your doctors will cover the details of your accident and what the best treatment is for your injuries. No matter how minor you may think your injuries are, it is essential to notify your doctor you were involved in a car accident and make an appointment to follow up with them.
At Rubin, Glickman, Steinberg & Gifford, P.C., our personal injury attorneys are skilled at helping clients receive compensation from the at-fault party after an accident. It is essential to see your doctor and get your injuries documented in the weeks following the accident to help your recovery and add to your case. Below are a few tips for discussing your car accident injuries with your doctor.
Seeing Your Doctor after an Auto Accident
Seeing your doctor immediately after a car accident helps you treat your pain and injuries right away. Without an evaluation from your physician, you could risk the opportunity to be rightly compensated for the injuries and damages that the liable party caused you in the accident. When you go to a doctor's appointment, there are questions you will want to ask and things to discuss with your physician following the car crash.
Tell Your Doctor You Were in an Auto Accident
After being in a car accident, the most crucial step is notifying your doctor and explaining the accident. The force of the impact from being in the car plays a significant role in determining what injuries you can be suffering from, even weeks after the crash. Your doctor can document the events of the accident as you explain and perform a thorough assessment of any apparent and possible injuries that need treatment.
Discuss Your Injuries and Progress
In addition to explaining the accident, you will want to document and discuss your progress by taking images after the impact and any worsening symptoms you experience. When you see your doctor, explain what happened and if any bruising, swelling, or pain appears and when it began. This is important in determining the treatment you need and keeping a record of your claim. Do not leave any information out, and be clear with your doctor about your injuries.
Be Honest about How You Are Feeling after the Accident
After an accident, many people suffer from fear, anxiety, and post-traumatic stress disorder (PTSD) because of the impact and the injuries endured. You can trust your doctor to perform a thorough physical exam and assess your mental health after a stressful event like an auto accident. Your mental status and mental health can be negatively affected by the accident, so this should not be left out.
Report Any Worsening or Newly-Found Injuries
In the days following your accident, you may notice near areas of pain, bruising, swelling, or discomfort. Always keep a record of your progress and report any worsening symptoms or new injuries that appear as you progress. Your doctor will need to keep a record and order any imaging or treatment to determine the extent of your injuries.
Do Not Leave Out Your Existing Medical Problems
Whenever you see your doctor, it is important to notify them of pre-existing conditions or medical problems that you are aware of. For example, if you have diabetes or suffer from high blood pressure, you need to make sure your doctor is aware of these conditions and your current injuries after a car accident. Your blood pressure and other vital signs can be abnormal following a traumatic event like a car accident. A doctor can help you manage your symptoms and injuries properly with a complete medical record.
Make It to Every Follow-up Appointment
An important part of recovering after an accident is making it to every follow-up and doctor's visit. Your doctor will discuss lab results, imaging reports, and address any concerns you may have. Your follow-up appointments are also a great time to ask questions you may have and seek the information you need to add to your claim so you can be compensated for your injuries.
What Should I Ask My Doctor after a Car Accident?
If you have been in a car accident, it is important to speak to your doctor as soon as possible. They can help you assess any injuries you may have sustained and provide you with the necessary treatment. Here are some questions you should ask your doctor after a car accident:
What injuries do I have?
What treatment do I need?
When can I go back to work?
Are there any long-term effects of my injuries?
What are the next steps?
Jotting down some questions to ask will help you remember some important information you will want to know in case you forget during your appointment. An experienced lawyer can help you seek compensation for your injuries when you have been in an accident.
Call Rubin, Glickman, Steinberg & Gifford, P.C. for a Professional Personal Injury Attorney in Pennsylvania
We understand that auto accidents are life-changing, and many people suffer injuries that take months or even years to recover. At Rubin, Glickman, Steinberg & Gifford, P.C., our legal team has served many clients in Pennsylvania for their personal injury legal needs. We are here to help you maximize the compensation you are owed. Give us a call at (215) 822-7575 or contact us using our contact form to schedule a free consultation.