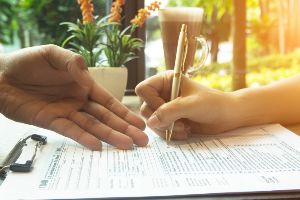 Accidents can drastically alter the lives of victims. The possibility of financial ruin may be on your mind, and recovering from a personal injury is an uncertain experience. Following an accident, you count on your insurance company to pay your medical bills and other costs. When you do not understand the full extent of your losses, you may accept a settlement that is far less than the amount you need to recover. 
Occasionally, however, your claim may not be settled at all, and it will be simply denied outright. In such a case, it is vital to figure out why the accident claim was denied. Insurers refuse to pay claims for a number of reasons, but below are five of the most common.
5 Reasons for Accident Claim Denials in Pennsylvania 
Whenever possible, insurance companies try to reduce their costs. One method is to reduce settlement payouts or deny insurance claims completely. In other words, insurance adjusters are trained to look for ways to reject your claim. An insurance claim after an accident may be denied for one of these five reasons. 
Medical Examinations or Treatment Were Delayed or Did Not Take Place 
To prove that you were injured because of a car accident, you need to get medical treatment as soon as possible. If not, the insurer may argue that the injuries did not occur due to the accident or that those injuries are related to an event other than your accident. You would have a much stronger case if you could demonstrate proof that you received a medical evaluation immediately after the accident. If you delay treatment, this could cause the insurer to think the injury is fabricated or exaggerated for the purpose of getting a payout since most injured accident victims generally seek treatment right away. You are also likely to be denied damages if you fail to submit any medical records indicating a diagnosis as you cannot prove you are entitled to compensation.
A History of Existing Medical Conditions, Injuries, or Surgeries 
An insurer may argue that your injury was caused by a pre-existing condition rather than the accident. In some cases, you may still be able to recover compensation if your condition worsened as a result of the accident. Still, it is often difficult to accurately identify what type of injury occurred and how your prior medical history influenced that injury. 
As part of the insurance process, carriers often ask injured parties to complete a medical authorization form. Before signing any of these forms, you should consult with a skilled lawyer. Using these authorization forms, insurers will obtain access to your complete medical history and investigate any previous injuries, complications, or surgeries. If you had a previous injury or surgery, the insurance company will likely try to argue that your current injuries can be attributed to your already existing medical state. 
Failure to Notify Your Insurance Company 
When you are involved in an accident, you are responsible for contacting your insurance company. After an accident, there are definite things you should and should not do when in correspondence with your insurance company. Nevertheless, you should always report an accident as soon as it takes place. 
Unless your insurance company is notified promptly, they might claim that they did not have time to investigate the claim properly when the evidence was still available or valid. 
Fault or Liability Disputes 
Understanding the contract you have with your insurance company is critical. You might not be able to claim your insurance benefits if you committed activities that void your policy. Almost always, insurance coverage is void when drunk driving is involved or if you admit to letting an unlicensed person use your vehicle. Unless your policy specifically covered it, your insurance company will not pay if you were at fault. Likewise, if you were operating a vehicle in violation of the law, your insurance company will probably refuse to pay. 
Nevertheless, not all wrongs are intentional. In some instances, your insurance company might refuse to pay if you were able to avoid the accident in another way. Specifically, if there is a question as to who caused the accident, the insurance companies of the parties involved might be unable to agree on whose responsibility it is to pay out your accident claim. 
You Have Exceeded Your Maximum Accident Coverage 
An auto policy includes multiple types of coverage. The three main types are property damage liability, collision coverage, and comprehensive coverage. Depending on your state, some types of coverage may be required, while others may be optional. Consequently, it is possible that your claim could be denied if the damage exceeds your maximum accident coverage. 
When Could Denial Be a Sign of Bad Faith?
The first thing you need to do when getting a notice of denial is to contact your insurance company to find out what went wrong with your particular claim and what you can do to resolve it. If none of these issues are applicable to your case, then it may indicate the company is acting in bad faith. Insurance companies that deny your claim out of bad faith are doing so for reasons that are likely unethical and not valid. Bad faith lawsuits arise from breaches of contract. In other words, your insurer is not abiding by the provisions of the original agreement. If you suspect this may be happening to you, it is critical that you seek professional legal advice to ensure compensation for any damages you have suffered. 
Get the Most for Your Southeastern Pennsylvania Personal Injury Case 
Whenever a car accident claim is denied, you should consult a personal injury attorney right away. Your attorney can help you communicate with your insurance company to determine the source of the problem with your claim and help you resolve that issue in order to be able to finally get the benefits that you are entitled to. If you have questions regarding your best course of action after an injury, make sure you contact Rubin, Glickman, Steinberg & Gifford for help. 
Our Southeast Pennsylvania personal injury law firm works on a contingency basis, meaning we charge no fee until your compensation is paid. If you are looking for a reliable, experienced attorney to represent you, call (215) 822-7575 or complete a confidential contact form on our website to schedule a free consultation today.