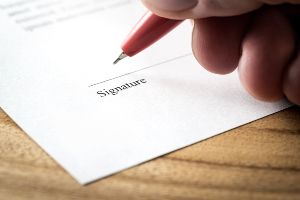 Injuries can be unpredictable. You might not respond as well to treatment as your doctor expects, or your injury could worsen over time, even after successful treatment. The future of an injury can be uncertain and difficult to predict when you are initially offered a settlement. In some scenarios, your injury may even require more expensive treatments than you anticipated.
What You Should Do Before Signing a Settlement
Until you sign a settlement offer that contains a release of liability, you are not bound by its contents. Even if you have already verbally agreed to the settlement terms, it does not go into effect until it is signed. If your condition worsens or your medical diagnosis becomes more severe before signing, your personal injury lawyer may be able to negotiate for more compensation. It is important to remember that you have no obligation to accept the first settlement offer, as it often marks the start of negotiations.
Before signing a settlement agreement, it is essential to consult with an experienced attorney to determine the full value of your claim. Your attorney can help you evaluate how much your claim is worth by bringing in medical or economic experts to ensure you get appropriately compensated for the total cost of your treatments. To make sure the amount determined covers all of your costs, be sure to follow your doctor's recommendations and do not skip treatment sessions. Following your plan of treatment can decrease the chance of your injury worsening.
What You Can Do If Your Injury Worsens after Signing a Settlement
After you sign a settlement agreement, your options to receive more compensation become limited. Since the settlement agreement releases the at-fault party from liability, you cannot file an additional claim against them for the same injury in the vast majority of cases. However, if the other party engaged in fraud or negotiated in bad faith, you may be able to reopen the claim or file a new one.
The other option is to open a new claim against another party that may be liable for your injury. For example, if you were in a motor vehicle accident, there may be multiple parties at fault that you could open a claim against. Multiple drivers could potentially be financially liable, or even a car's manufacturer can be liable if a faulty part caused the accident. However, in these situations, the other parties would only be liable for a percentage of your damages.
Contact an Experienced Pennsylvania Personal Injury Lawyer
Meeting with an experienced attorney can help ensure that you do not sign a settlement agreement prematurely. At Rubin, Glickman, Steinberg, and Gifford, the initial consultation is free and can help you determine your next steps. Our award-winning attorneys have over 65 years of experience helping clients in Pennsylvania build solid claims and get the compensation they deserve. Fill out our online contact form or call our office at (215) 822-7575 to schedule a free consultation.