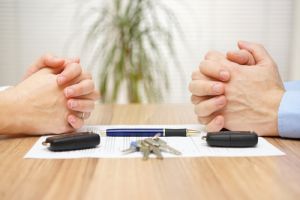 Although some surveys now indicate that a majority of marriages in the U.S. end in divorce, the exact divorce process for a couple will depend on their particular circumstances. For example, couples who have not been married long and who do not have children together or significant assets will often have a shorter, less-complex divorce process than those couples who have been married for a long time, have children, or have significant financial entanglement. Couples can also make the divorce process go more smoothly by negotiating the terms of the divorce, as opposed to litigating every issue in their divorce in court.
Filing a Divorce Complaint
Regardless of how amenable a couple is to negotiating the terms of their divorce, every divorce must begin with one spouse filing a divorce complaint with the court. A divorce complaint must set forth a few key pieces of information, including:
Facts establishing that at least one spouse meets the state's residency requirements to seek divorce in that state
The legal grounds for divorce — whether the petitioning spouse is alleging that the other spouse is at fault for the end of the marriage (such as due to adultery or abuse) or whether the marriage has simply "irretrievably broken down" (a "no-fault" divorce)
Facts establishing that the couple has met any applicable separation or waiting/cool-down requirements before seeking divorce
Seeking Temporary Orders
A divorce proceeding can take several to many months before a final decree is issued by the court and all issues between the spouses are resolved. However, the couple can ask the court to issue temporary orders resolving these issues, like child custody, child support, spousal support, or division of property to allow the couple to separate from one another while these issues are negotiated or litigated to a final order. These temporary orders remain in effect until changed by the court or until the court finalizes the divorce.
The court will typically request information from each spouse before issuing any temporary orders. For example, for child or spousal support orders the court will ask the spouses to provide their respective financial information to determine whether support is warranted or whether the obligor spouse can afford to pay support.
Temporary orders can be used to maintain the status quo pending finalization of the divorce. For example, orders can require a spouse to continue making mortgage payments or pay for the costs of upkeep for the marital home; orders can also direct spouses not to sell or otherwise dispose of certain property during the divorce proceedings.
Negotiating Settlement Agreements
Divorce goes a lot more smoothly if couples are able to agree on the outstanding issues in their divorce, such as child custody, alimony, and division of marital property and debts. That way, the final divorce decree will include provisions that are acceptable to both spouses, rather than having the court impose a result that one or both spouses may not like. The court may order a couple to attend a settlement conference, or the couple may choose on their own to engage in mediation of their outstanding issues.
Trial and Judgment
If all outstanding issues cannot be resolved between the parties, the court will need to conduct a trial. Divorce trials are far more time-consuming and expensive than couples resolving their issues through negotiation or mediation, and they take the final result out of the couple's hands.
Whether a couple comes to a settlement or the court holds a trial, it will issue a judgment of divorce that legally ends the marriage and sets forth the specifics on issues like custody, child support, alimony, and property division.
Contact a Colmar Family Law Attorney for a Consultation About Divorce in Pennsylvania Today
If you are thinking about filing for divorce, or if you have already started the divorce process and are dealing with another matter such as child custody, child support, or division of assets, you need to speak with a qualified attorney. The Pennsylvania family law attorneys at Rubin, Glickman, Steinberg & Gifford, P.C. represent clients throughout Southeastern Pennsylvania, including King of Prussia, Norristown, Newtown and Doylestown. We understand how challenging this time can be for you, which is why we will fight hard to protect your interests, and the interests of your loved ones, throughout the legal process. Call us at (215) 822-7575 or fill out our confidential contact form to schedule a consultation. We have an office conveniently located at 2605 N. Broad St., Colmar, PA 18915, as well as an office located in Newtown.
The articles on this blog are for informative purposes only and are no substitute for legal advice or an attorney-client relationship. If you are seeking legal advice, please contact our law firm directly.