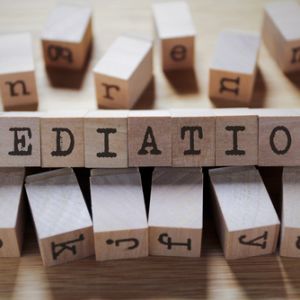 Mediation is an alternative to the traditional divorce process, and statistics show that nearly nine out of ten mediated divorce cases go on to settle successfully. In addition, about 66 percent of couples who go through mediation report being satisfied with the outcome of the mediation process.
Keep reading to get a deeper insight into the mediation process and the advantages of this method.
What is Mediation?
Mediation is an alternative divorce method that involves negotiation between the two parties. This negotiation process is facilitated by a third-party, who should always be neutral. This mediator hears both parties' respective needs and terms, exchanges information and facilitates the bargaining process.
It isn't the mediator's position to resolve problems. They will also never force an agreement onto either party. It's also not the mediator's position to offer legal advice. Each party is instead encouraged to obtain legal representation.
What Are the Advantages of Mediation?
There are several well-known advantages of the mediation process. Here's a brief overview of some of the benefits:
Can be faster than the traditional divorce process
Confidential
Mediation may be less expensive
Both parties maintain more control over the divorce outcome
Parties have greater freedom to come up with creative arrangements, whereas a judge is bound by legal precedent
Mediation may result in greater compliance by both parties
Mediation facilitates better communication between the parties
When both parties come into mediation prepared to make decisions and compromise, the whole process can be done within a matter of hours. This arrangement may reduce the financial and emotional costs associated with divorce.
What Happens When Mediation Isn't Working?
Mediation is a great option for some couples, but it's not always the best option for you. If you are experiencing a high-conflict divorce or your partner doesn't compromise, then mediation may be out of the question. In addition, any divorce process that includes allegations of abuse probably should not be recommended for mediation. Both parties must have mutual respect for each other for this process to work.
Even if you try mediation and later find it isn't working, future settlements can be drawn from agreements made during mediation. Parties may decide to agree to some parts of the mediation while choosing to litigate other issues in the courtroom.
Contact a Colmar Family Law Attorney for a Consultation About Divorce Mediation in Pennsylvania Today
If you are thinking about filing for divorce, or if you have already started the divorce process and are dealing with another matter such as alimony payments, child custody, child support, or division of assets you need to speak with a qualified attorney. The family law attorneys at Rubin, Glickman, Steinberg & Gifford represent clients throughout Southeastern Pennsylvania, including Lansdale, Hatfield, Blue Bell, North Wales, Souderton, Telford, Newtown, and Quakertown. We understand how challenging this time can be for you, which is why we will fight hard to protect your interests, and the interests of your loved ones, throughout the legal process. Contact us at 215-822-7575 or fill out our confidential contact form to schedule a consultation. We have an office conveniently located at 2605 N. Broad St., Colmar, as well as an office located in 12 Penns Trail, Suite 145, Newtown, PA.
The articles on this blog are for informative purposes only and are no substitute for legal advice or an attorney-client relationship. If you are seeking legal advice, please contact our law firm directly.