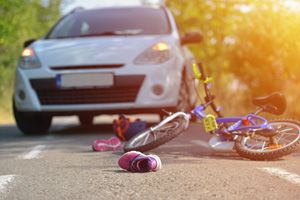 Bike riding is a fun and invigorating pastime for children across Pennsylvania. Biking from a young age can encourage independence and a healthy lifestyle. However, children are smaller and less visible to drivers, putting them at a higher risk for accidents and injuries. If your child has suffered an injury in a bike accident in Pennsylvania, you do not have to fight for justice alone. A highly-qualified child injury attorney can help you by holding negligent parties responsible and ensuring you are fairly compensated for your child's medical needs.
Steps to Take if Your Child Was Injured in a Pennsylvania Bike Accident
The steps you take immediately following your child's accident are critical for your child's safety and the success of your claim. The following are necessary steps to take after a bicycle accident:
Call the Police
A police report is a critical piece of evidence in bicycle claims involving children. Additionally, the police can assist you in collecting contact information from the driver while you tend to your injured child.
Collect the Driver's Contact and Insurance Information
If possible, be sure to take note of the driver's name, phone number, and insurance information. If you cannot do so due to your child's injuries, the officer on the scene can assist you.
Seek Immediate Medical Care For Your Child
Even if your child's injuries seem minor, they may worsen over time without proper treatment. Taking your child to their doctor or the emergency room is vital for their health and the validity of your claim.
Collect Evidence of the Incident
Before leaving the scene, you should take photos of your child's injuries as well as any damage to their bike and helmet. This evidence can be used in your claim to help establish your child's losses and the driver's negligence.
The final essential step is to contact an experienced bicycle accident lawyer. Your lawyer will take the time to learn every detail of your case so that you can collect the damages you need to cover the full extent of your family's losses.
Establishing Negligence in a Child Bike Accident Case
When operating a motor vehicle, drivers have a duty to exercise care so that others are not harmed by their actions. However, when driving in areas where children are present, adults are expected to exercise an even greater level of care.
Suppose the accident occurred in a school zone, neighborhood, or another area where the driver knows children tend to be present. In that case, they might have acted negligently by speeding or not paying enough attention to their surroundings. Your attorney will review the evidence and facts of your case to determine who should be held responsible for your child's injuries.
Contact a First-Class Pennsylvania Bike Accident Attorney at Rubin, Glickman, Steinberg, and Gifford
If your child suffered an injury in a bicycle accident in Pennsylvania, you need an experienced lawyer on your side. At Rubin, Glickman, Steinberg, and Gifford P.C., our attorneys have dedicated their careers to protecting their client's rights and helping them get the justice they deserve. Our experienced legal team is committed to advocating tirelessly on your behalf to achieve a favorable outcome for your case. To schedule a free consultation, call us at (215) 822-7575 or complete our contact form today.