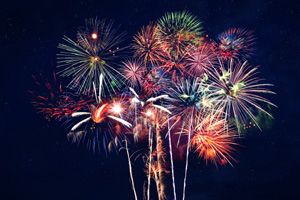 Fireworks are a popular and exciting way to celebrate holidays and special occasions. However, they can also pose a risk of injury or death if used improperly. In addition, fireworks start around 18,500 structure fires each year. 
If you plan on using fireworks for your holiday celebrations, it is important that you follow all state laws regarding their use. The following information will help you understand what is required by law in order to safely enjoy this fun activity.
Fireworks Laws in Pennsylvania
On October 30, 2017, Governor Tom Wolf signed into law H.B. 542, which repeals the Fireworks Safety Act of 1939 and replaces it entirely with the Fireworks Act of 2017. 
Under the law, consumers can buy and use Class C consumer fireworks, such as firecrackers and bottle rockets, that include up to 50 milligrams of explosives. This change allows Pennsylvanians to legally purchase and use such products that had been restricted to out-of-state residents.
In addition, the law expanded the definition of "display fireworks" to include displays involving salutes that contain more that two grains of powder or 130 milligrams per salute, and displays involving aerial shells that contain more than 60 grams of explosive materials. These changes will give municipalities the ability to regulate the sale and use of display fireworks that were previously unregulated.
Anyone over the age of 18 can legally purchase fireworks. However, it is illegal to sell them to minors. It is important to consider that some cities ban certain types of fireworks, while other types of fireworks require permits. Note that airborne fireworks can only be purchased in person at permitted brick-and-mortar retailers. This includes bottle rockets and Roman candles.
Restrictions of Fireworks Law in Pennsylvania
The state of Pennsylvania has strict regulations regarding the use of fireworks. They must be stored away from children and pets and cannot be lit within 150 feet of any occupied structure. Plus, you also must have permission to set off fireworks on private property from the property owner.
You cannot legally set off fireworks from within or facing a building or a vehicle. Additionally, you cannot be under the influence of alcohol or drugs. If you violate these rules, you could face fines.
Dangers Associated With Fireworks
There are many dangers associated with fireworks, some of which include the potential to suffer burns, eye injuries, hearing loss, and even death. As a result, it is crucial that you handle fireworks utilizing the proper safety precautions.
Children are especially vulnerable to fireworks accidents because they lack the experience necessary to properly handle them. Children should never play with or touch fireworks, especially without adult supervision.
Schedule a Free Consultation to Learn More About Your Legal Options
Thousands of people are injured each year as a result of firework accidents. Most of these injuries occur within the month of July, with a concentration of injuries, deaths, and damaged properties during the first week. If you or a loved one have been injured as a result of a fireworks display—whether a professional show or at someone's private property—you could be entitled to compensation. 
Burn injuries associated with fireworks can be serious and require substantial medical treatment. Contact Rubin, Glickman, Steinberg & Gifford to discuss what led to your injury and to see if you might have a possible legal case related to your injuries. Call us at (215) 822-7575 or submit our contact form to schedule your consultation.