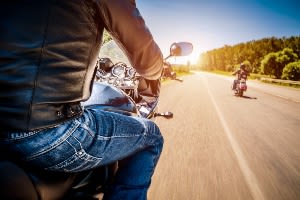 The morning and evening glare effect on the road is something automobile drivers think little about before traveling in their car. For motorcyclists, the driving hazards caused by glare require a great deal of caution. The commute to or from work can become abruptly more perilous when you find yourself looking straight into the sun sitting low in the sky.
Motorcycles are a fraction of most cars' size on the road, making visibility a significant component of riding safely. After a collision, whether due to glare, driving behaviors, or other reasons—drivers often claim that they didn't see the motorcyclist. When the days are shorter and the sun starts to set during rush hour, it's wise for motorcyclists to review what times are the most dangerous to ride and work out a plan to avoid those hours.
What Times of Day Are the Most Dangerous to Ride a Motorcycle?
According to statistics from the National Highway Traffic Safety Administration (NHTSA), about 60 percent of all motorcycle deaths occur during the daylight hours in urban areas. In 2017, most motorcycle fatalities happened in "cloudy/clear conditions," while only two percent occurred in the rain and one percent in the fog.
These figures show that even when it's light out and the weather conditions seem ideal for riding a motorcycle, it's essential for motorcyclists to never let their guard down and stay vigilant to avoid an accident.
Additionally, the NHTSA statistics demonstrate that motorcycle accidents are more likely to occur on the weekends than on weekdays. Considering the number of hours between the weekday and weekend, more than 1.7 times as many motorcyclists died in traffic collisions in 2017 during the weekend than the weekday.
Overall, the data tells us the following about the  most dangerous times to ride a motorcycle:
Deadly motorcycle crashes are more likely to occur in heavy traffic.
Weekend evenings, when motorcyclists and other drivers may be drinking alcohol and letting their guard down, are among the most dangerous hours to ride a motorcycle.
Motorcyclists typically do not ride when it's foggy or rainy, so most accidents occur when it's clear or cloudy out, making this a dangerous time to ride for motorcyclists.
Tips for Safe Motorcycling in Pennsylvania
The Pennsylvania Department of Transportation (PennDOT) focuses on spreading safety awareness and educating motorcyclists on safe riding practices. Below are some simple ways to ride safely:
Stay Visible to Other Drivers
Ensure others on the road see you by wearing reflective clothing and putting reflective tape on your riding gear and motorcycle
Ride with your headlights on during the day to increase visibility
Use the correct lane positions to have the best vantage point and enable other drivers to see you
Stay out of and avoid other drivers' blind spots
Draw attention by flashing your brake light when slowing down
Use hand signals with your motorcycle's turn signals during all lane changes and turns
Use the Proper Safety Gear
Wear a quality DOT-approved motorcycle helmet and eye protection gear. The best option is a full-face helmet for optimal protection
If possible, choose a bright motorcycle helmet to increase your visibility
Wear protective jackets and clothing, like leather or other sturdy materials, including over-the-ankle boots and gloves
Tips to Prevent Motorcycle Collisions
Reduce the risks that come with motorcycling and keep safety your primary concern. Avoid a motorcycle accident by keeping these tips in mind:
Ride defensively and always search the roads for changing traffic conditions
Evaluate and prepare for hazards on the road ahead before being forced to react in an emergency
Use good sense and never ride when you are tired or under the influence of drugs or alcohol
Obey speed limits and follow the rules of the road
Allow yourself plenty of time and space between yourself and other vehicles
During the spring, be wary of gravel buildup on the edges of roadways and near intersections from winter road care
Pay attention to other vehicles that might turn in front of your path, particularly at intersections
Familiarize yourself with your motorcycle and conduct a pre-ride safety check before every ride
Contact Experienced PA Motorcycle Accident Attorneys You Can Trust
There are always preventative measures you can take to enhance your security when riding your motorcycle. Avoiding the most dangerous times on the road with heavy traffic and while the sun's glare is at its height are fundamental steps to riding safely. Unfortunately, even when taking all the precautions, you can't always prevent others' negligence on the road. If you were involved in a motorcycle accident in Montgomery County or across Southeastern Pennsylvania, contact the seasoned motorcycle accident lawyers at Rubin, Glickman, Steinberg & Gifford P.C.
With 270 cumulative years of experience handling a wide variety of injury and criminal cases, our experienced team of attorneys has helped countless accident victims suffering injuries from a thoughtless driver. To schedule a free consultation with an experienced motorcycle accident attorney, complete a contact form or call 215-822-7575 today.