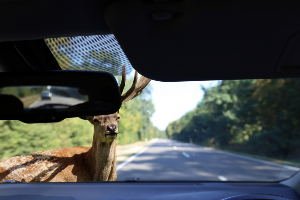 Pennsylvania has the second highest number of deer–vehicle collisions in the United States. The result of hitting a deer or swerving to avoid an encounter with wildlife can be disastrous. While deer–vehicle crashes are generally characterized by property damage, many are also dangerous for people. Trauma and damage to the head, neck, back, and limbs can have grave effects on victims' physical, psychological, and monetary health.
Moreover, car accidents of this sort introduce even greater complexity when it comes to auto insurance and motor vehicle regulations. It is especially difficult to prove concepts of liability and damages because they are not as straightforward. The following information attempts to provide clarity on who may be liable for injuries sustained in collisions with deer.
What Happens If You Hit a Deer?
Even though hitting a deer can be terrifying, it may be the safest outcome compared to hitting anything else, like an external object or another road user.
If this happens, your insurance company may step in and cover the damage to your vehicle and any medical bills you accrue due to the accident. The amount your insurance company will cover—if they will cover it at all—depends on your policy type, your insurance's terms, and the nature of the damage the crash caused.
For instance, if you don't carry comprehensive coverage and your windshield is cracked during a hail storm, you may have to pay for it out-of-pocket since it's not normally covered by non-comprehensive insurance.
When you have comprehensive coverage, the insurance company will help pay for any damages to your vehicle that aren't caused by a collision. Despite the fact that your insurance may cover your windshield, some policies include high deductibles that need to be met prior to your insurer paying out any compensation.
Why Deer–Vehicle Crashes Can Be Complicated
Generally speaking, the worst-case scenario and the majority of injuries occur when drivers attempt to avoid a deer. By swerving out of the way, the chances of colliding into someone or something else increase. In essence, these are just regular traffic accidents that may involve a passenger vehicle or truck, motorcyclist or bicyclist, or pedestrian. Though the deer is what caused your car to crash, you cannot hold the deer liable for your injuries. So, what does this mean? And how do you get compensated for your injury expenses?
Whatever kind of accident a driver got into, whether it was with a deer or another car, the duty to drive responsibly remains the same. The notion of driving responsibly involves assessing situations, following the law, and taking all necessary steps to minimize risk. Consequently, drivers in Pennsylvania should take precautions on the roads during the breeding season, which is from October through December.
Failure to take precautions may be considered negligence. This includes actions like speeding, ignoring deer crossing signs, being intoxicated behind the wheel, and many other unsafe driving practices. If another driver swerves into you trying to avoid a deer, or perhaps you slowed down to let a deer cross and another driver fails to respond accordingly, a direct result of either scenario can cause serious injuries—and you deserve to be fairly compensated. In other words, the other driver and/or their insurance company may be held liable for your damages in excess of the amount of PIP coverage you have purchased.
Safety Tips to Avoid Accidents with Deer in Pennsylvania
You must always keep your eyes on the road when driving. Stay focused when driving in mountainous and forested areas where deer can suddenly appear on the road. This is a situation we see all over Pennsylvania, particularly in the evenings when a direct line of sight to wildlife is not possible.
Listed below are a few safety tips to avoid striking a deer.
Don't swerve in fear of a collision; slow down instead.
Deer tend to travel in groups beside the road. If you only saw one deer crossing the street or standing near it, remain alert because there could be others.
Deer stare straight at your headlights while crossing the road, but they do not run away because they are often blinded by the headlights. They do the best they can to adjust their vision before continuing walking and completing the crossing.
Be extra careful of deer on Pennsylvania roads between dusk and dawn.
Take it slow on the roads that have a deer crossing sign.
Know which towns and roads have the most deer nearby.
Pennsylvania Injury Lawyers Won't Let Insurers Escape Liability
At Rubin, Glickman, Steinberg & Gifford, we help accident victims secure the monetary recovery to which they are entitled. We have been providing our clients with exceptional legal services since 1952, and that commitment stands steadfast today. In all of our legal matters, our personal injury lawyers always adopt a client-centered approach, allowing us to consistently deliver remarkable results.
Our firm will work assiduously to ensure insurance companies do not delay or undervalue your claim. A top priority for us is to quickly obtain the compensation you deserve. To speak with one of our experienced injury lawyers during a free consultation, complete our confidential online contact form or call (215) 822-7575 today.