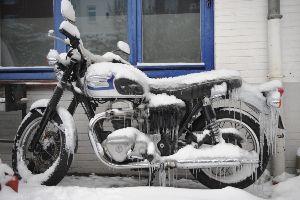 Pennsylvania is known for its long, cold winters. With cold weather rapidly approaching, it is important to keep your motorcycle in mind as you prepare for the next season. Even if you are done riding for the season, you will still want to keep your motorcycle in top-notch condition. To do that, you will have to take the necessary steps to properly winterize your motorcycle.
Not preparing your motorcycle for winter weather could potentially lead to accidents or injuries to you or other motorists. The attorneys at Rubin, Glickman, Steinberg and Gifford, P.C. know that preparation is the key to success. With over sixty-five years of combined experience handling personal injury cases, they know how to help you if you have been involved in a motorcycle accident.
Best Tips for Prepping Your Motorcycle for Cold Weather
Even if you do not plan to ride your motorcycle during the winter, you still need to maintain your motorcycle's excellent condition. There are several steps you can take to properly winterize your motorcycle. Such steps include:
Prepare the Surface
Prior to storage, it is best to meticulously clean all parts of your motorcycle. This means thoroughly washing and drying your bike to ensure that there is no moisture on the surfaces. After washing and drying your bike, you should wax your bike completely to protect it against moisture and rust. It is also wise to utilize a corrosion inhibitor to prevent oxidation and corrosion.
Mind the Battery
Hopefully, your battery is a maintenance-free battery. If so, you will want to store it in a warm area and charge it periodically to obtain the longest life out of it. You can also use a battery maintenance system to help keep your battery as fresh as possible.
If you have a lead-acid battery that utilizes a screw-on cap on top, check the battery fluid level. Internal plates may short due to low battery acid, which can cause sulfation.
Fuel System Preparation
Before you store your bike away for the winter, make sure to fill your tank and treat the fuel and the fuel system with an additive designed to handle issues caused by ethanol fuels. If you do not presently use additives in your bike, make sure you take it for a short ride after using the product before you store the bike. That way, the treatment can fully saturate the fuel system. If you have a carbureted system, it is best to run fuel treatment into the system, turn the petcock off (if it is not a vacuum unit), and drain the carburetors.
Switch Out Engine Oil
Replace the engine oil and filter in order to remove the dirty oil and harmful carbon deposits.
Fill the tires
Your tires will lose air during storage, so it is best to keep your bike propped up on its center stand or paddock stands. If a stand is not available to you, consider moderately overfilling the tires and moving the bike somewhere to prevent permanent flat spots.
Contact the Experienced Motorcycle Accident Injury Attorneys at Rubin, Glickman, Steinberg & Gifford, P.C.
Perhaps you want to wait a little longer before putting your motorcycle into winter storage. Be warned that it can be difficult to control a motorcycle in a cold, snowy Pennsylvania winter. Even if you are an excellent motorcycle driver, you cannot control the vehicles around you. If you have been injured in a motorcycle accident due to someone else's recklessness, our motorcycle accident lawyers can help. To schedule a free consultation, you can call us today at (215) 822-7575 or contact us online.