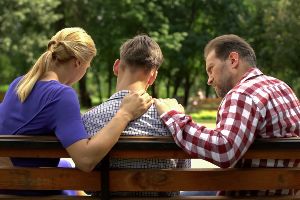 Sex crimes are sensitive to all involved and can be confusing and upsetting to parents of a child accused of such an allegation. Pennsylvania sex crime laws are stringent, and as a result, families can be thrown into crisis when such an accusation is rendered. 
Rubin, Glickman, Steinberg & Gifford knows how sensitive these cases can be and the uncertainty families face as they figure out the next steps for their child. It is crucial to work with a qualified attorney as soon as possible as the initial steps of such a case are significant. 
Step 1: Hire an Experienced Attorney
If your child has been accused of a Pennsylvania sex crime, the first thing you should do is hire an experienced attorney. These cases can sometimes move very quickly and having an attorney by your side every step of the way ensures that you and your family don't make any missteps while navigating the legal system. 
Especially if your child is detained, hiring a qualified attorney before you do anything or talk to anyone is imperative. You or your child might inadvertently provide incriminating information during the release process that can become an issue later in the case. 
Step 2: Learn Your Rights
Learning your child's rights in this process is critical to guiding them through this scary and uncertain time. If your child is arrested in connection with a sex crime and taken to a juvenile detention facility as the parent, you must be notified immediately. 
Authorities may hold your child for up to 72 hours before a hearing to determine if they can be released pending further action on the case. The hearing is also the point at which probable cause of the crime may typically be presented. 
Step 3: Talk to Your Child About the Situation
Depending on the allegation details and after speaking with an attorney, talk with your child about what has transpired. This may be a good time to gauge their understanding of sexual matters. Sometimes charges regarding sexual crimes may be rendered with information that may not be age-appropriate or beyond a child's scope of knowledge. 
Crimes may also be centered on information shared among children and not necessarily on actions. As such, you need to know exactly what your child knows about sexual matters and how they have interpreted this knowledge. 
Such a conversation is also a good time to allow your child to talk about how they feel about the situation. Encourage them to ask questions about what to expect from the legal process. While you might not have all the answers, it may help them talk about any emotions they are experiencing. 
Work with a Qualified Criminal Defense Attorney for Pennsylvania Sex Crime Accusations
When your child has been accused of a Pennsylvania sex crime, your first instinct is likely to protect them. The best way you can do that is by hiring a criminal defense attorney who has the necessary experience and compassion to guide your family through the legal process. 
The team of attorneys at Rubin, Glickman, Steinberg & Gifford has the necessary background to offer legal guidance to make sound decisions on the best course of action for your family. The firm has been helping Southeastern Pennsylvania families for more than 65 years, providing a deep wealth of knowledge on criminal defense best practices within the legal system. To receive a free consultation, call (215) 798-7081 or contact us here.