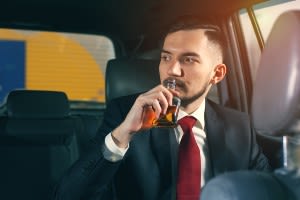 If you're a Pennsylvania resident, you likely already know that police have the right to make an arrest if they suspect a driver is under the influence of alcohol. But what about passengers? If you're entirely sober behind the wheel, are you held liable for the actions of those in your own vehicle? Do passengers face similar consequences if they have alcohol on them? 
To most, drinking as a passenger may not initially appear to be a criminal act. After all, as a passenger, you're not behind the wheel and putting lives at risk. However, the Commonwealth doesn't see it the same way. Pennsylvania's open container laws apply to everybody in the car, not just the driver, meaning that neither drivers nor passengers can possess an open alcohol container while on the roads. We've broken down Pennsylvania's open container laws and the penalties drivers and passengers may face if found in violation.
Understanding Pennsylvania's Open Container Laws
Most states—including Pennsylvania—have laws prohibiting the presence of open cans, bottles, or other unsealed containers of alcoholic beverages on sidewalks, streets, and inside vehicles. It's crucial to note that the actual consumption of alcohol isn't a decisive factor when police are determining whether the open container law is violated. In other words, if a bottle is open inside a vehicle, even if neither party was actually drinking, they're still in violation.
A person who breaks Pennsylvania's open container law commits a summary offense, which is punishable by a fine of up to $300 and up to 90 days in jail.
The Exceptions to Pennsylvania's Open Container Laws
It's important to note the exceptions to the rule. Pennsylvania's open container laws don't apply to passengers in the following types of vehicles:
Limousines, buses, and taxis

: A passenger may lawfully consume an alcoholic beverage or possess an open container if the passenger area is used mainly for transporting individuals for compensation.

House coaches, RVs, and trailers

: Under the Commonwealth's open container laws, you may consume alcohol or possess an open container of alcohol in the living quarters of a house coach or house trailer.
In these particular cases, the alcohol must be in the back of the vehicle or in the living quarters where the driver doesn't have access to it.
What Is the Penalty for a Passenger Caught Drinking in a Car?
If you're a passenger who's been arrested for carrying an open container of alcohol, you may be charged with a summary offense and pay a fine. The fine can be up to $300, and you may also serve up to 90 days in jail. While this may not sound like a substantial concern, having a conviction for violating the open container laws can eventually lead to other severe consequences, such as:
Having a criminal record

Your car insurance dropping its coverage

If you have a criminal record, your penalties may increase

Higher car insurance costs
As a result, while the actual criminal penalty may not be severe, a conviction can have a substantial effect on your life.
Get in Touch with a Knowledgeable Montgomery County DUI Defense Lawyer
If you are a passenger who has been arrested for carrying an open container in a vehicle, get in touch with an experienced criminal defense lawyer in Montgomery County as soon as possible. The Southeastern Pennsylvania DUI attorneys at Rubin, Glickman, Steinberg & Gifford understand how difficult this time can be for you, which is why we're committed to fighting for your rights and protecting your interests during the legal process. Our highly trusted legal team understands the ins and outs of Pennsylvania's open container laws and will be by your side every step of the way.
The seasoned lawyers at Rubin, Glickman, Steinberg & Gifford have been helping clients for more than 65 years in Montgomery County, Bucks County, Chester County, Delaware County, Lehigh County, and throughout the surrounding areas. We've gained the respect and trust of clients facing a range of legal problems. Our attorneys are prepared to protect you and guard your rights. Contact us at (215) 822-7575 or complete our online contact form today.