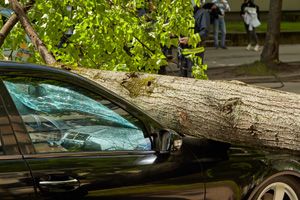 Car accidents are generally confusing and overwhelming, often resulting in severe injuries and steep medical bills. But when your car accident comes partially due to poor weather conditions, receiving compensation can feel more complicated than usual. Suddenly facing severe pain and wounds due to no fault of your own is awful, especially when someone is likely responsible for your accident. But can you receive compensation when you get into an accident during inclement weather? Who might be responsible?
When you get into a car accident due to severe weather conditions, you will likely want to know what steps to take next. If you need assistance after a car accident, allow Rubin, Glickman, Steinberg & Gifford, P.C., to offer helpful information. We have over 65 years of experience in personal injury and criminal defense law, meaning we have the tools, resources, and strategies necessary to help you with your claims. Our lawyers are talented and compassionate, and we dedicate ourselves to working hard in favor of deserving victims.
Can Pennsylvania Inclement Weather Affect Car Accident Liability?
Severe weather conditions can affect liability in car accidents and other collisions resulting in serious injuries. However, this does not excuse a lack of caution from drivers during inclement weather. This means that driving while distracted, under the influence of drugs or alcohol, ignoring traffic signs and signals, speeding, and other irresponsible behaviors may make an individual liable for damages. Weather issues may increase the risks associated with driving, but they do not remove responsibility from responsible drivers.
Does This Mean You Can Receive Compensation?
Often, you will be able to receive some compensation for a car accident during inclement weather. However, insurance companies may attempt to define the poor weather as an "Act of God" to minimize settlement payouts.
Before accepting settlements from an insurance company, we strongly recommend you speak with a lawyer. In most cases, a lawyer can help you increase the value of your claims and receive the compensation you need and deserve.
Who Is Responsible for a Car Accident in Pennsylvania Bad Weather?
Who can be held responsible for a car accident during poor weather largely depends on the circumstances. For example, an accident due to an unkempt road requiring attention may put the liability on the city government. If another driver is present, they may also be responsible for damages.
We recommend working with a lawyer to determine who is responsible for your injuries since many parties need to be considered. Additionally, more than one individual may be partially liable for your losses, and this possibility deserves attention. Most often, you will need to determine who is responsible for your losses and take legal action against them to receive the compensation you need to recover. Your lawyer can help streamline the legal process.
How a Lawyer Can Help With Your Weather-Related Accident
If you want fair compensation and are willing to take legal action against the responsible parties, we recommend you work with a lawyer. Your lawyer can help you by speaking on your behalf, completing paperwork, collecting and analyzing evidence, and more. Your attorney is here to reduce stress, maximize compensation, and streamline the legal process on your behalf.
We recommend you refrain from representing yourself during legal proceedings, as you risk misrepresenting your case and losing some of the compensation you deserve. Your attorney is much more likely to help you receive the necessary recovery and avoid these mistakes.
Personal injury lawyers often work on a contingency fee basis, meaning you do not pay unless you win. Additionally, you will likely receive compensation for legal fees, meaning there is little risk to working with your lawyer.
Car Accident in Pennsylvania? Get the Help You Need From a Lawyer at Rubin, Glickman, Steinberg & Gifford, P.C.
If you have been in a car accident involving inclement weather, please reach out to us at Rubin, Glickman, Steinberg & Gifford, P.C. These situations can be complicated, but our lawyers can offer you the vital support you need to recover and receive fair compensation.
To begin discussing your case and prioritizing your overall recovery, please do not hesitate to contact us. You can reach us by calling (215) 822-7575 or completing our contact form at your earliest convenience, whichever you prefer. We look forward to hearing from you and assisting with your case in any way we can.