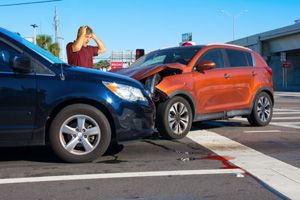 Wrong-way car accidents—most commonly referred to as head-on collisions—are among the most deadly type of crashes to occur on public roadways due to the increased severity of the collision resulting from the forward motion of both vehicles. When a wrong-way accident occurs, it is generally assumed that fault lies with the driver who was traveling in an opposing lane. In many cases, this is true. However, proving fault in other cases can be much more complicated than determining who was traveling in the wrong lane.
If you have been injured in a head-on crash in Pennsylvania that was caused by the negligence of another party, a knowledgeable personal injury attorney can explain the personal injury claims process that you can use to obtain compensation for the financial and psychological costs of your injury. They may also be able to provide services to assist you with your claim, including gathering evidence and witness testimony that can establish fault.
How Fault Is Shown in Most Wrong-Way Car Accidents
Most accidents result from negligence, which refers to careless or reckless behaviors. In order to have a positive outcome to a car accident claim, the claimant and their attorney must be able to prove fault by showing the following elements of the case:
The at-fault party had a duty of care to take reasonable actions in order to avoid causing harm to others while operating a vehicle on a public roadway.
This duty was breached when the at-fault party took actions that were contrary to avoiding harm. Drivers are most commonly the cause of wrong-way car accidents, and the type of behaviors that can lead to this type of accident include distracted driving, drunk driving, drowsy driving, or even speeding.
The breach of the driver's duty resulted in the accident that caused the claimant's injuries.
A police report is one of the common pieces of evidence used to prove this type of crash. This report is created by the law enforcement officer who responded to the scene to investigate the accident and contains information about both drivers, any witnesses on the scene, and any citations that were issued to either driver due to traffic infractions. Photos of the accident scene and the damage to the vehicles involved can also sometimes help a car accident attorney to explain how the accident occurred, as can surveillance video from residents and businesses in the area where the accident occurred.
Circumstances Beyond Driver Behavior That Can Lead to Wrong-Way Accidents
While driver behavior is generally the cause of head-on collisions, this behavior can be exhibited by other drivers besides those directly involved in the wrong-way crash. One common way for a driver to cause a head-on involving two other vehicles is through a prior accident. Sometimes, the force of an accident can push one of the vehicles involved into an opposing travel lane, causing them to crash into another vehicle. Additionally, aggressive driving behaviors or road rage can result in a chaotic situation in which a driver attempts to evade a real or perceived risk by entering another travel lane.
Beyond any negligence by drivers on the roadway, other issues that can lead to wrong-way accidents include hazardous road conditions, such as deep potholes or even animals or people on the road that a driver attempts to avoid by swerving into another travel lane. Wrong-way crashes can also be the result of negligence by the governmental agency tasked with maintaining the roadway, such as roads featuring missing signs, faded line markings, overgrown foliage that prevents the driver from seeing oncoming traffic, confusing signage, and poorly marked off- and on-ramps.
An attorney will conduct an investigation to determine all sources of liability and associated insurance resources that can cover the expenses and impacts of the claimant's injury. Individuals who believe that their accident was the fault of a governmental agency are encouraged to speak with an attorney as soon as possible, as claims against the government often follow a different process that features shorter deadlines than the standard personal injury claim.
The Confusion of Pennsylvania Construction Zones
A common place for wrong-way accidents to occur is in construction zones, where the road's lane configuration can be dramatically altered in order for the work to take place. Construction companies can also have liability for wrong-way crashes if the crash occurred due to a particularly confusing or poorly marked new lane configuration. Additionally, they can be liable for leaving equipment or debris in travel lanes that cause a driver to swerve into an opposing lane, as construction companies are generally responsible for ensuring that the zone is reasonably safe for travelers passing through it.
An attorney will look at several factors to determine if a construction company is liable for their client's wrong-way crash, including photos of the accident scene that reveal whether the site featured the proper warnings and markings, the proximity of equipment used by the company to the roadway, or even whether the work zone was designed properly to avoid causing drivers to operate without visibility of oncoming traffic or to make a drastic maneuver in order to navigate the zone.
Wrong-Way Accident in Pennsylvania? Contact RGSG
As noted, establishing fault in a Pennsylvania wrong-way car accident is not always as easy as determining who failed to stay in their own lane. There are numerous pieces of information to consider and evidence that must be analyzed. The talented legal team at Rubin, Glickman, Steinberg & Gifford, P.C. has decades of experience in helping those who have been injured to determine who was at fault and to pursue compensation for the negative financial and emotional effects of their injury.
If you have been injured in a wrong-way accident in Pennsylvania, the clock is ticking on the amount of time you have to file a personal injury claim. For more information on the claims process and the type of services we can provide as you seek the compensation you need, contact us online or call (215) 822-7575.