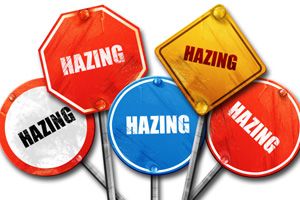 In times gone by, hazing was considered a rite of passage for high school and college athletes and members or prospects of fraternities or sororities. Through the years, however, hazing incidents have become increasingly more violent, more commonly fueled by alcohol, and even more sexual in nature. Even now, a majority of high school and college students report being hazed, often on their school campus and with at least tacit knowledge of the actions by coaches and other personnel.
Make no mistake about it: Hazing is illegal in Pennsylvania. If you or your minor child have been accused of hazing, the state imposes severe consequences that can include a felony conviction, fines, and even incarceration. These penalties are even more severe for institutions that are found to have intentionally or knowingly allowed hazing to take place.
What Types of Behaviors Are Considered Hazing?
Pennsylvania law defines hazing as the intentional, knowing act of forcing a student to endure certain acts in violation of federal or state law. These acts include:
Consuming food, liquid, alcohol, a drug, or other substance in a manner that places the student at risk of emotional or physical harm
Physical punishment, including whipping, beating, branding, calisthenics, or exposure to the elements
Mental brutality, such as sleep deprivation, isolation from social activity, or conduct that could result in extreme embarrassment
Brutality of a sexual nature
Any other activity that is reasonably presumed to pose a likelihood of bodily injury
Organizational hazing involves hazing that occurs within an organization such as a sports team, fraternity, or sorority, in which coaches, sponsors, or other non-students involved in the organization knew that hazing was taking place or would likely take place and did not take reasonable actions to stop or prevent the acts. Institutional hazing occurs when the personnel of an institution such as a college or high school, knows or promotes hazing or fails to take preventative measures to avoid hazing activities on campus. It should be noted, however, that the offense does not include reasonable, customary, or athletic training for athletes or military personnel, or contests, competitions, or events.
The Consequences Associated With Hazing
Hazing is considered a summary offense in Pennsylvania, which means that in many circumstances, it is simply charged as a non-traffic citation and a fine is imposed. However, if the hazing is performed with reckless indifference to the safety and life of others and results in a serious bodily injury or the death of a student, it will be charged as aggravated hazing, which becomes a 3rd-degree felony. In this case, the defendant faces up to seven years in prison, along with the imposition of fines, court fees, and other court requirements.
Organizations and institutions that allow hazing or fail to take actions to prevent it on or off campus face a fine of up to $5,000 for each violation in a hazing incident and a fine of up to $15,000 for each violation in an aggravated hazing incident. They also face forfeiture of property that was involved in the incident. Organizations and institutions that have been found to have allowed hazing are not allowed to present defenses to the charge that they obtained consent from the student for the incident to take place or that the conduct was sanctioned and approved.
How an Attorney Can Help if You Are Charged With a Hazing Offense
Being convicted of a hazing event can have serious future implications, even if no one was seriously injured by the activity. Contrary to popular belief, misdemeanors do appear on criminal records and can impact a defendant's future ability to obtain housing or employment or to attend an educational institution. If the charge is aggravated, the accused faces prison time, significant fines, and additional penalties.
A knowledgeable criminal defense attorney can provide a number of services in order to assist individuals, organizations, and institutions accused of hazing, such as:
Helping them to understand their legal options and developing a defense strategy that helps to reduce the consequences of the charge
Gathering evidence and witness testimony in order to fight the charge in court
Examining the criminal investigation and the court process to ensure that the defendant's civil rights are respected by government law enforcement officials and attorneys
Negotiating a plea deal where the defendant pleads guilty in exchange for a reduction of penalties. In many cases, if it is the defendant's first offense, there will be an opportunity for them to participate in a diversion program in exchange for the removal of the conviction from their criminal record
While many people wish to avoid the expense of an attorney when dealing with a criminal case, they often find themselves overwhelmed by the amount of evidence and information they will be required to sort through in order to prepare their own defense and that they will not be assisted in the process by the judge or prosecutor. Instead, they will be expected to adhere to the formalities and expectations of the court just as an attorney would be.
Accused of Hazing in Pennsylvania? Contact RGSG
The legal team at Rubin, Glickman, Steinberg & Gifford, P.C. has ample experience in defending people who have been charged with hazing. Our team consists not only of former prosecutors and a former JAG officer but also an attorney who is certified by the National Board of Trial Advocacy. We have been fighting for the rights of those accused of crimes in Pennsylvania for more than 68 years. We will work to gather the information needed for your case and will help you create a defense strategy that reflects your best interests.
Hazing charges do not go away on their own, and defending oneself against this type of charge is extremely difficult. For more information on how the RGSG legal team can help you after you have been accused of hazing, contact us online or call us at (215) 822-7575.