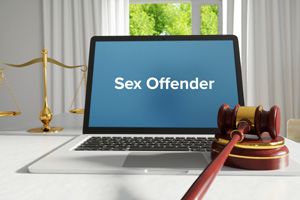 A criminal sex offense conviction carries with it a number of disqualifications and repercussions that can make it very difficult to assimilate back into society as productive citizens. The impact of these consequences are intensified for individuals who were convicted and legally penalized for sex crimes due to the fierce stigmatization of sex offenses in modern society. Once a convicted person is branded as a "sex offender," any semblance of privacy they once had is gone.
While being a convicted, registered sex offender is difficult, they still have to live and subsist within our communities. In some situations, it may be possible to deregister as a sex offender. In order to do this, it is recommended to contact a legal representative for help. The firm of Rubin, Glickman, Steinberg and Gifford, P.C. has the resources and experience necessary to reach an amenable solution to the issue of deregistering as a sex offender, making sure you can move forward with your life.
What Is the Pennsylvania Sex Offender Registry?
The sex offender registry in Pennsylvania is a registry created and maintained by state law enforcement that hosts the names of people that live, work, or attend school in the state and that have been convicted of a sex offense. Informally known as "Megan's Law", as it is in several other states, Pennsylvania's version of the law requires sex offender registration and community notification. There is also a federal Megan's Law that applies in certain cases, which only requires community notification. The frequency and number of years of that a person must register varies depending on the sex offense conviction. There are three tiers of sex offender registration:
Tier 1: 15 years
Tier 2: 25 years
Tier 3: Lifetime
Depending on the severity of your crime, having your name removed from the registry becomes a much more difficult legal matter that may require that your conviction must be reversed, vacated, or set aside. Additionally, you must be granted a pardon of innocence before your name is removed. In most cases, there is a minimum of 25 years before your information is even eligible for being removed, which means there is no redress for Tier 1 or Tier 2 offenders.
Common Sexual Crimes That Require Sex Offender Registration in Pennsylvania
The scope of sex offenses in Pennsylvania is vast. The most common crimes that require a person to register with the Pennsylvania sex offender registry include the following:
Any form of internet sex crimes
Child pornography charges
Child sexual assault
Online solicitation of a minor
Date rape
Statutory rape
Spousal rape
Failure to register as a sex offender when mandated
Child molestation
Involuntary deviant sexual intercourse
These crimes span the range of the three tiers, with child-related offenses being the most severe.
How Does the Deregistration Process Work?
The process for an individual deregistering their information from the sex offender registry is highly dependent on their original conviction. In most cases, a judge sets a specific amount of time the registrant must remain on the sex offender registry. Still, there are certain instances where you may petition the court to have your information taken off the sex offender registry. Typically, you will have to prove one of the following:
The offense has been decriminalized since your conviction
The probation period assigned by the court has ended
You have completed extensive counseling or other treatment
You have a verified record of rehabilitation
The conviction record of your offense has been successfully expunged
You were a minor at the time of conviction
You have convincing evidence to prove you are no longer a public danger
Another court overturned your prior conviction
You have received an official pardon
More specifically, If you are required to register as a sex offender for a nonviolent offense, you generally have a much better chance of securing a registry expungement than a person that has committed a violent sexual crime.
Work With Experienced Pennsylvania Criminal Defense Attorneys
While the sex offender registry exists for public safety, those who are on the registry are still citizens that have basic rights. Getting your information off the sex offender registry is a complex process meant to preserve public safety. Our legal team at Rubin, Glickman, Steinberg, and Gifford, P.C. is composed of highly trustworthy and knowledgeable legal professionals who understand the ins and outs of sex offender registry laws. We have over 65 years of experience that can help achieve the best possible outcome for you and your family. Call (215) 822-7575 or fill out our contact form to schedule a consultation.