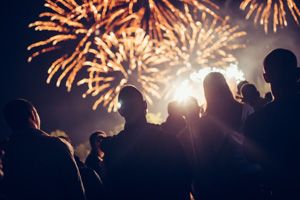 With summer fast approaching, it means cookouts, parties, and celebration. At many of these gatherings, fireworks will be part of the show. While fireworks can be exciting, they are also extremely dangerous. In fact, CDC data found that injuries from fireworks accounted for over 10,000 emergency room visits in 2019.
The injuries that are inherent in firework accidents—burns, hearing loss from explosions, eye or hand injuries—can leave you with physical and emotional scars that will last the rest of your life. For over 65 years, Rubin, Glickman, Steinberg and Gifford, P.C. has represented adults and children injured by firework accidents at public celebrations or private parties. Our team of compassionate, skilled personal injury attorneys can guide you through this often stressful time.
Can Firework Injuries Be Prevented?
While it is true that fireworks are very dangerous, like any dangerous object, injuries can be prevented with some forethought and caution. Following these steps can help prevent firework injuries before they occur:
Never lean over lit fireworks when lighting the fuse
Back up to a safe distance right after lighting them
Never allow young children to use fireworks
Only use fireworks outdoors
Light fireworks one at a time, then move away from them quickly
Never try to relight or handle fireworks that did not go off properly
Keep a bucket of water or a garden hose nearby the area where you are lighting fireworks
Never point or throw fireworks at someone else
Never carry fireworks in your pocket
Never shoot fireworks off in a metal or glass container
Douse fireworks with plenty of water before throwing them away to prevent a trash fire
Do not use homemade fireworks
It is important to understand that taking these precautions will help prevent potential injuries, but as fireworks are still dangerous under the best of circumstances, injuries can (and often do) occur when using them.
What Are Some Common Firework Injuries?
By nature, fireworks are very unstable and unpredictable. Because there is such a wide variety of fireworks, from sparklers to roman candles, there are also a wide variety of potential injuries that they can cause:
Burns
Hand injuries
Eye injuries
Lacerations
Facial injuries
Loss of limbs
Hearing or vision loss
Regardless of the type of injury, when you or a loved one suffer an injury from a firework, you have the right to sue for compensation.
What Is the Legal Recourse for a Firework Injury?
When you or a loved one are injured in an accident involving fireworks, you could potentially bring a lawsuit against the person or entity responsible, especially if they were using the fireworks in a negligent or reckless way. Generally, these injuries fall under the personal injury section of the law, meaning that if you bring a claim, you can recover:
Medical bills
Emergency medical costs
Pain and suffering
Mental anguish
Lost wages from inability to work
In some instances, you may also have the opportunity to bring what is known as a "product liability" claim. The argument here would be that the manufacturer of the fireworks made an error when making the product.
Even if you are not physically injured by a firework accident, you could still suffer property damage if the firework display damages your house or other piece of property you have. Determining the specifics of your potential claims is something an experienced personal injury attorney can help you with.
Lastly, Pennsylvania has a two year statute of limitations for personal injury cases, meaning that you have to file your claim within two years of the date of the injury.
Let Experienced Pennsylvania Personal Injury Attorneys Work for You
As you and your family prepare for summer celebrations, be wary of the dangers fireworks can pose. While fireworks can be exciting and memorable, they can also leave scars and damage to yourself or property that can take years to recover. If this has happened to you or a loved one, reach out today to the experienced Pennsylvania personal injury attorneys at Rubin, Glickman, Steinberg and Gifford, P.C. We have over 65 years of experience helping personal injury clients from our offices in Montgomery and Bucks County. Call us today at (215) 822-7575 or fill out our contact form to schedule a free consultation.