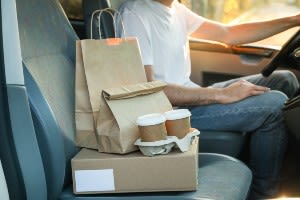 Most accidents can be resolved between the parties involved and their insurance companies. In scenarios in which accident expenses exceed what an insurance company is willing to pay, victims can sue the at-fault parties to recover further compensation. 
One unique situation is accidents that involve delivery drivers, as these types of crashes may provide victims with additional alternatives for compensation. If you have been involved in an accident with a delivery driver, you should speak to a skilled Pennsylvania personal injury attorney. Here are some important things to know about delivery driver liability in Southeastern Pennsylvania. 
Are Employers and Drivers Both Responsible in Delivery Driver Accidents?
If the delivery driver was at fault in a car accident, they will be held liable. However, in addition to their liability as the driver, their employer may also be held accountable. In Pennsylvania, the "theory of vicarious liability" allows car accident victims to bring forth claims against both a delivery driver and their employer. To successfully secure compensation under this theory, the victim must show that the driver acted "within the scope of employment" at the time of the accident. 
To classify as acting within the scope of employment, the following conditions must be present in the accident:
The  presence of an employer/employee relationship

The employee is  working within the scope of his duties
Take this example in which this theory would extend liability to the driver's employer: A delivery driver, on route to deliver food to a customer, is driving a company vehicle at high speeds and is swerving in and out of traffic. As a result, the delivery driver loses control of the vehicle and crashes into another vehicle, injuring the passengers. The factors in this scenario would allow the injured parties to recover compensation from both the driver and employer. 
Delivery driver accidents can be quite nuanced, as the facts of the crash are not always as cut-and-dry as these examples. To properly assess whether you can hold a delivery driver and their employer responsible for your injuries, you must consult an experienced personal injury lawyer. 
What Kinds of Damages Can I Receive Compensation For?
To receive compensation from an accident with a delivery driver, victims must demonstrate to insurance companies—and in some cases the court—that they incurred damages that are directly related to the accident. To do this, victims must keep detailed records of accident-related expenses. Some of the damages you may be eligible to receive compensation for include:
Medical expenses, including any present and future accident-related medical costs

Non-monetary damages, including psychological pain and suffering, loss of consortium, and loss of life's enjoyment

Lost wages, related to a victim's inability to return to work or lost earning capacity as a result of the accident

Punitive damages
The best way to determine the damages and compensation you are entitled to is to work with a skilled car accident attorney. 
Get Help from an Experienced Pennsylvania Personal Injury Lawyer Today
If you have incurred any injuries or damages as a result of another driver's negligence, you should secure expert legal counsel. A skilled personal injury attorney can examine all the factors surrounding your case and develop a successful strategy for securing the compensation you are entitled to. At Rubin, Glickman, Steinberg & Gifford, our personal injury attorneys are committed to securing compensation for our clients' medical costs, property damage, and lost wages.  
For over 65 years, our personal injury attorneys have advocated for our clients' best interests in Montgomery County and throughout Southeastern Pennsylvania, recovering millions of dollars for our community members. To schedule a free case review with a skilled personal injury lawyer, complete our contact form or call today at 215-822-7575.