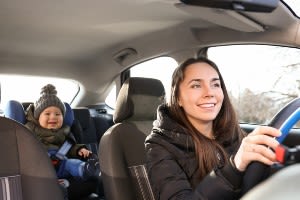 Most parents do everything in their power to protect their children from getting hurt. However, there are certain factors that parents can't control—such as other vehicles on the road. Unfortunately, car accidents are a common occurrence in Southeast Pennsylvania, and often, children become victims of other drivers' negligence. In some cases, car accidents cause children to sustain injuries that can significantly impact their ability to live a normal life. 
Navigating a car accident is overwhelming. Car accidents—and the trauma they cause—can happen so fast. It is critical to take crucial steps in the aftermath of an accident to make sure your child is best protected during the claims process. Working with a skilled Pennsylvania car accident attorney is the best way to ensure you properly navigate the claims process. If your child is injured in a car accident, here are some important steps to take. 
Call for Emergency Personnel
The most important thing to do in any accident is to call for emergency medical assistance as soon as possible. Even if the injuries seem minor, it is important to get a medical professional to the scene to perform critical assessments. Making sure your child receives a medical examination is the most important step to take. In addition to medical personnel, police will arrive to investigate the accident and put together the accident report. 
Do Not Move Your Child Until Medical Professionals Arrive
As a parent, it can be unbearable to not immediately attend to your child after an accident. While it may be tempting to move your children from their seats—especially if they are unconscious—it is important to wait until medical professionals arrive to move your child. This is because accidents can cause dangerous injuries and any movement could potentially worsen your child's injuries. However, while resisting the urge to move your child is important, this does not mean you should not look for any injuries. If your child is conscious, you should ask them if and where they feel pain. It is also important to look for signs of any of the following conditions: 
External bleeding 

Broken bones

Abnormal breathing

Head injuries or trauma
Additionally, whiplash and concussions are two of the most common injuries associated with car accidents. Therefore, it is good for parents to be aware of some of the common signs of head injuries that present in children. Some common symptoms associated with head injuries in children include:
A raised, swollen bump or a bruise on the head or face

Any cuts on the scalp

Headaches

Increased sensitivity to noise and light

Lightheadedness

Trouble balancing
These are just a few common symptoms associated with head injuries in children. The best way to monitor your child after a car accident is to take them to a medical professional. 
See a Doctor after the Accident and Continue to Monitor Your Child
Even if your child seems fine from the accident, it is important to seek medical attention in the days following the crash. Many of the most common internal injuries incurred from car accidents do not show symptoms until a couple of days after a crash. Therefore, it is always best to take your son or daughter to see a doctor who can make sure there are not any underlying injuries that were missed at the scene. Even after your child sees a doctor, it is important to continue to monitor your child's condition. It is also essential to keep all documentation that is provided by any medical professional, as this can heavily influence the claims process. 
Get Help from an Experienced Pennsylvania Personal Injury Lawyer Today
If your child has sustained any injuries or damages as a result of another driver's negligence, you should secure experienced legal counsel. A skilled personal injury attorney can examine all the factors surrounding your case and develop a successful strategy for securing the compensation your child deserves. At Rubin, Glickman, Steinberg & Gifford, our personal injury attorneys are committed to securing compensation for our clients' medical costs, property damages, and lost wages. 
For over 65 years, our personal injury attorneys have advocated for our clients' best interests in Montgomery County and throughout Southeastern Pennsylvania, recovering millions of dollars for our community members. To schedule a free case review with a skilled personal injury lawyer, complete our contact form or call today at 215-822-7575.