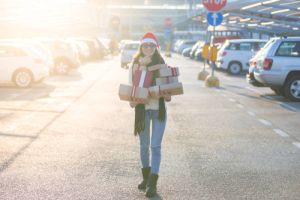 People can trip and fall over something in a parking lot after leaving a business without getting hurt. In fact, it is something that likely happens more often than you might think. While most people get right back up with just a few scratches on their bodies, some parking lot falls lead to far more serious injuries. If a person slips on black ice in a parking lot and falls to the ground, that person could suffer from a concussion, broken bones, and various other injuries. As a result, the injured person might want to file a lawsuit against the business.
General Care for the Customers/Guests
There is a certain level of care that business owners should take when it comes to keeping their properties free of hazardous conditions. A business owner could know that these hazardous conditions exist but choose not to act quickly enough to handle the situation. Because business owners have a duty of care to provide to their guests, they can be held responsible for slip and fall situations that happen on the premises.
Providing Proof of Care
If a lawsuit is filed against a business owner and he or she doesn't believe they are in the wrong, the individual would need to provide proof of any steps that were taken to eliminate and prevent hazards. When it comes to dealing with ice in the parking lot, the business owner would need to have the ice removed while making sure to block that section of the parking lot off to keep people from walking on it.
We wrote a detaIled blog about who is liable in a slip and fall accident. Click the link to learn more.
Understanding Negligence Claims and Duty of Care
When someone is injured and decides to file a lawsuit because they slipped in the parking lot, they will need to prove that the business owner was negligent. Before filing a claim, it is important to find out if the duty of care existed in this situation with the business owner. When a company does not have that duty of care responsibility, it may not be held responsible for those negligence claims because they do not need to take certain steps to protect anyone. It is also important for the injured person to provide proof of any injuries and proof that those injuries were caused by the fall in the parking lot. If a person was injured beforehand, those injuries could not be included in the claim.
The natural accumulation rule exists in some states. Sometimes snow and ice will accumulate at a quick pace and a business owner is unable to take care of it because they were unable to travel outside to get to the establishment and work on removing the snow and ice.
Hiring a Lawyer to Help
Whenever a person gets hurt after slipping on the ice while walking through a parking lot, they might want to find out if they have a lawsuit or not. It is possible that they slipped and were injured because of a business owner's negligence. It would be best for them to hire an experienced lawyer who can find out if the case is worth pursuing based on the information provided by the injured individual.
Contact a Colmar Personal Injury Lawyer To Discuss Your Slip and Fall Case In Pennsylvania
Did you or a loved one sustain serious injuries due to a slip & fall accident in Pennsylvania? Don't let the medical bills pile up while you wait for the negligent party or their insurance company to do the right thing. Right now, you need an aggressive personal injury attorney on your side, fighting to get you the compensation you need, want, and deserve. The skilled attorneys at Rubin, Glickman, Steinberg & Gifford P.C represent clients injured because of trip and fall accidents in Newtown, Doylestown, Lansdale, Norristown, and throughout Southeastern Pennsylvania. Call (215) 822-7575 or fill out our online contact form to schedule a free consultation about your case. We have an office conveniently located at 2605 N. Broad St., Colmar, PA 18915, as well as an office in Newtown, PA.
The articles on this blog are for informative purposes only and are no substitute for legal advice or an attorney-client relationship. If you are seeking legal advice, please contact our law firm directly.