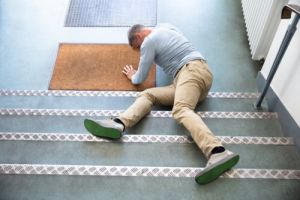 A store owes their customers a safe environment. Unfortunately, many stores act negligently by not attending to spills, providing poor lighting, leaving debris on the floor, and failing to fix weak or crumbling infrastructures. These unsafe conditions may lead to injuries which can leave the victim with burdensome medical bills and considerable pain and suffering. In this case, a victim has a valid claim for liability.
Duty of Care
A store owes a duty of care to its customers. Store owners are responsible for maintaining a safe environment by wiping up spills and putting out clear and explicit signage that warns of any danger or risk posed to customers. If the store or company breaches this duty in any way that causes injury, they can be held liable as a result.
Slips and Falls
A slip and fall can cause serious physical damage. A fall can cause broken or bruised bones, sprained ankles or wrists, shoulder dislocations, spine and nerve damage, and sometimes a traumatic brain injury. The severity of these injuries widely vary and some are life-altering. If the injuries require surgery and extensive medical care or physical therapy, the medical costs could be overwhelming. Some injuries may result in missed time from work and lost wages.
How to Respond
After a fall, it's imperative to seek medical attention right away. Sometimes, it is difficult to notice the severity of an injury until time has passed, as adrenaline can often mask the seriousness of an injury. However, seeking medical attention quickly can not only help prevent further injuries but also provides evidence the injury occurred.
Collecting Evidence
When a fall happens in a store, there are many ways it can be documented. It is of the utmost importance to collect any and all evidence that can be associated with the accident. Most stores have security cameras that may have captured the accident. If there is security footage that captures a fall and proves liability, it can help a case tremendously. There also may have been witnesses to the accident who can speak to the victim's claim. If the fall caused any injuries, there should be well-documented medical records that can prove the severity of the fall.
Proving Liability
In order to prove that the store is liable for a slip and fall, the victim must prove they acted negligently. It is best to seek an experienced personal injury lawyer who can assist you with your premises liability claim.
Contact a Colmar Personal Injury Lawyer to Discuss Your Slip and Fall Case in Pennsylvania
Did you or a loved one sustain serious injuries due to slip and fall in Pennsylvania? Don't let the medical bills pile up while you wait for the negligent party or their insurance company to do the right thing. Right now, you need an aggressive personal injury attorney on your side, fighting to get you the compensation you need, want, and deserve. The skilled attorneys at Rubin, Glickman, Steinberg & Gifford, P.C. represent clients injured because of a slip and fall accident in Newtown, Doylestown, Lansdale, King of Prussia, Norristown and throughout Southeastern Pennsylvania. Call (215) 822-7575 or fill out our online contact form to schedule a consultation about your case. We have an office conveniently located at 2605 N Broad St, Colmar, PA 18915, as well as offices in Newtown, PA.
The articles on this blog are for informative purposes only and are no substitute for legal advice or an attorney-client relationship. If you are seeking legal advice, please contact our law firm directly.