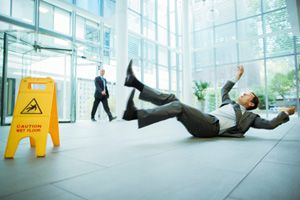 Slip-and-fall accidents can happen in many places. Unfortunately, many of these accidents result from someone's negligence and can cause long-term injuries that could change your life forever.
When you are injured in a slip-and-fall accident, your first thought may be to sue someone and hold them accountable for your injuries. However, slip-and-fall cases are not as straightforward as you may think. It is challenging to tell who is responsible for the accident. It gets even more complicated when it comes to proving your claim. That is why you need a skilled slip-and-fall attorney to help you. In this guide, we will show you how to tell who is responsible if you were injured in a property slip-and-fall accident.
Common Causes of Slip-And-Fall Accidents
Different hazards can create dangerous conditions that may lead to a risky fall and cause devastating injuries. These hazards include:
Uncleared ice and snow
Debris
Poor lighting
Wet floor
Uneven walkways, sidewalks, and steps
Wet floors
Product spills
When these conditions exist on someone's property, they may have long-term consequences, including head injuries, fractures, and even wrongful death.
Liability in a Slip-And-Fall Accident
In many cases, someone's negligence causes a slip-and-fall accident. Therefore, you can recover damages, but from whom? To determine the liable party, you will be required to review the premises' condition at the time of the accident and prove the following aspects of negligence:
The property owner or manager created a hazardous situation that led to the accident
The owner or manager knew about the condition but failed to act accordingly to fix it or warn their visitors
The person should have reasonably known the hazard existed and fixed it
The dangerous condition on the property caused your injuries
The injuries have directly caused you to suffer damages
Determining whom to hold responsible for your injuries depends on the type of property and the circumstances that led to the accident.
Who Is Responsible for a Slip-And-Fall Accident
Depending on where the slip-and-fall accident occurred and what caused it, some of the liable parties may include:
Homeowner
If you were injured on residential property, the homeowner could be responsible for the accident. When a person invites you to their property, they are legally required to ensure it is safe and free from dangerous conditions. This applies to invited guests and other anticipated visitors, such as delivery people.
A tenant can be treated as a homeowner if they have control of the property. This means that if you slip and fall inside a person's apartment, the renter may be liable instead of the building owner.
Government Entity
You can also recover compensation for slip-and-fall accidents on government-owned properties. Your local government is also responsible for maintaining sidewalks and the streets. Therefore, you can file a lawsuit against your local government if they fail to fix broken sidewalks or potholes that cause your accident. However, personal injury lawsuits against government entities have stringent limitations and rules.
Property Manager
In some buildings, the property owner may have hired a manager to oversee and maintain their rental property. Therefore, the property management company will be responsible for the damages if they fail to eliminate the dangerous condition. You may hold the property manager and owner accountable for your injuries, depending on the circumstances.
Commercial Property Owners
The business owner or company may be liable when you slip and fall in a retail establishment. For commercial properties, the manager and employer are required to ensure it is free from any dangerous conditions. If they fail to keep the property safe for their customers, they can be held responsible for their injuries in case of a slip-and-fall accident.
Contractors
When contractors leave equipment or create a hazardous condition while working on the property, they may be held liable for the damages in a slip-and-fall accident case. This can include service providers such as:
Cable companies
Cleaning companies
Electric utilities
This also applies to construction companies that fail to fix dangerous conditions when renovating or maintaining the building.
How You Can Help Your Slip-And-Fall Claim
Proving liability in a slip-and-fall accident requires strong evidence that supports your claim. Unfortunately, the liable party may try to clear the evidence to undermine your claim. Therefore, you can help your case by:
Take photos and videos of the accident
Review property documents to identify the owner
Collect witness reports
Only by gathering the required evidence can you determine liability and hold the responsible parties accountable for their negligent acts.
Contact a Reputable Slip-And-Fall Accident Lawyer at Rubin, Glickman, Steinberg & Gifford, P.C. Today
Property owners must exercise the utmost care in maintaining their property and are legally required to keep it safe for their visitors. When a negligent property owner fails to get rid of or warn you of the hazardous conditions on their property, they should be held liable. However, unraveling the complex question of liability in a slip-and-fall accident is difficult and requires the expertise of a knowledgeable attorney.
At Rubin, Glickman, Steinberg & Gifford, P.C., our attorneys will analyze your situation, determine the liable parties, and build a strong case against them. We will handle your case with the diligence and tenacity it deserves. Contact us online or call us today at (215) 822-7575 to speak to our talented slip-and-fall attorneys about your case.