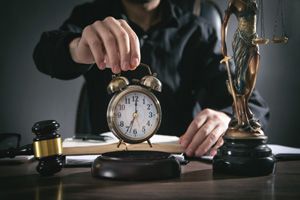 If you find out you have an outstanding bench warrant that has been ordered against you or that you missed a court hearing that you were required to attend, it is best to take action right now to avoid any harsher consequences. Missing a court hearing means that you likely have a bench warrant issued for your arrest. 
Having an outstanding bench warrant for your arrest means that you are likely to be taken into custody at any given time. To diminish some of the anxiety of taking action against a bench warrant alone, consult a defense attorney as soon as possible to resolve the matter before it negatively impacts your life. 
Reasons Why You Have an Outstanding Bench Warrant in Pennsylvania 
There are several reasons why you may have an outstanding bench warrant, and usually, people learn about them during incidents like traffic stops. Depending on the type of warrant you have, police officers may release you during your arrest if you arrange to turn yourself in. Generally, police are more likely to arrest you for an outstanding warrant. Old warrants can happen for several reasons, including: 
Failing to complete the terms of a probation 

Non-violent offenses 
If you think you have an outstanding warrant for your arrest, get help from a knowledgeable defense attorney to avoid the risk of being arrested. 
Simple Ways to Clear an Outstanding Bench Warrant in Pennsylvania 
Clearing up an old bench warrant can be simple if you take immediate action. If you have an outstanding bench warrant for a non-violent crime such as a traffic stop, it may be as easy as paying a fine. For other reasons like violating the terms of probation, you must complete the terms of your probation. For non-violent offenses, a skilled attorney will help you receive bail and move forward. Other possibilities of taking action include: 
Appearing at arraignment instead of being taken into custody

Scheduling a hearing about the bench warrant before the arrest 

With the help of an attorney, turning yourself in 
Speak with an attorney for guidance surrounding your bench warrant on how to best proceed. They will be able to offer counsel and expertise to clear your bench warrant and keep you out of jail. 
Contact a Pennsylvania Attorney to Take Action against a Bench Warrant 
If you have an outstanding bench warrant for your arrest, consult the skilled attorneys at Rubin, Glickman, Steinberg & Gifford P.C. to help clear your name and avoid any jail time. Our knowledgeable attorneys can offer expertise surrounding the specific Pennsylvania laws affecting your case. Our 65 years of experience in criminal defense means we can help you resolve your bench warrant successfully to get you back on track. 
As an award-winning law firm, we have helped client's in the Pennsylvania community implement legal strategies to get the best outcomes for their cases. To reach an expert defense lawyer, contact us at (215) 822-7575 or fill out our contact form for a free consultation.