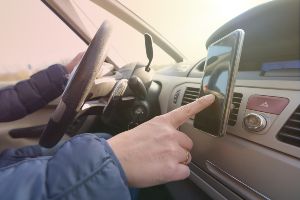 As technology swiftly advances in the motor vehicle industry, manufacturers and technology companies have been working diligently to solve the problem of distracted driving. If you can drive, you should know that looking at a cell phone when you are operating your vehicle is extremely dangerous. Unfortunately, there are still several thousand car accidents that occur each year due to distracted driving. While hands-free devices may seem like a safe solution when driving, these devices are not much safer than using a smartphone. Using a hands-free device may seem safe, but there are many reasons why you may still get distracted while using such devices in a vehicle.
If you have been injured in an accident caused by distracted driving, you should contact an experienced attorney to help you.
How Do Hands-Free Devices Affect Your Cognitive Attention?
Many factors go into being a safe driver. A significant factor in safe driving is having high cognitive attention whenever you are behind the wheel. Both driving a car and using a smartphone require your cognitive attention. Your cognitive attention is involved even if you are not physically operating the smartphone. While a hands-free device does not require a driver to touch or hold the device, operating such devices can be just as distracting and dangerous as texting and driving. Whether you are looking at a navigation system, switching a song, or having your texts read aloud, these hands-free devices split your cognitive attention. You need to place your full attention on the road to be a safe and alert driver.
How to Spot a Distracted Driver on the Road
While you may not be a distracted driver, there is no way to control the actions of other negligent drivers on the road. No matter how safe of a driver you are, if you happen to be on the road with a distracted driver, you may still become involved in a car accident. You should always be alert and aware of your surroundings when driving. Stay as far away as you can from distracted drivers. The following odd behaviors may be signs of distracted driving:
Drifting in and out of lanes
Ignoring traffic signs or signals
Using a hands-free device or smartphone
If you see a driver doing any of these bad driving habits, you should keep your distance to avoid getting hit. If you are involved in an accident caused by a distracted driver, you should contact an attorney right away.
Get Help from an Experienced Car Accident Lawyer at Rubin, Glickman, Steinberg & Gifford, P.C.
Rubin, Glickman, Steinberg & Gifford, P.C., has a team of skilled car accident lawyers with experience helping victims of accidents caused by distracted drivers using hands-free devices.
If you or a loved one have been involved in an accident due to distracted driving, you may be entitled to financial compensation for your losses. To get help with your car accident claim, contact an experienced car accident lawyer to help you pursue the damages you are owed.
Rubin, Glickman, Steinberg & Gifford, P.C., has been assisting clients in Southeastern Pennsylvania for over sixty-five years. Our legal team is proud to provide the award-winning representation our clients deserve. To schedule a free consultation, contact us here or call (215) 822-7575.