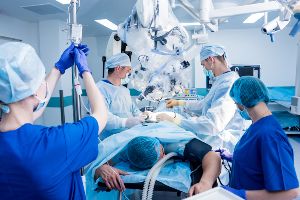 Six million individuals are involved in car accidents in the United States each year. As the victim of a car accident, the likelihood of you leaving the scene of the crash with a severe injury is high. Spinal injuries are among the most severe injuries sustained in car accidents. 
Rubin, Glickman, Steinberg, and Gifford are a team of car accident injury attorneys who have helped many clients who have suffered from spine injuries following a Southeastern Pennsylvania car crash. Our legal team may be able to help you build a personal injury claim to help pay for the medical bills that may build up as you recover from spine surgery.
Five of the Most Common Spine Surgeries after a Car Accident
Many individuals assume that to suffer a neck, back, or spine injury after a car accident, that the accident must be as severe as the injuries. In reality, a car accident as minor as a fender bender may leave you suffering from a herniated disk or whiplash. An injury to the spine is serious and should be treated by a medical professional to help prevent any long-term damage or chronic pain. Spinal surgery is an option to help minimize any damage caused by the accident, relieve pain symptoms, and help you heal. 
Laminectomy
If the root cause of your pain is due to damage to your spinal nerves, laminectomy is a surgical option your doctor may recommend. This surgical procedure creates more space in your back by having your lamina, which is the flattened or arched part of the vertebral arch, surgically removed. Examples of injuries that may lead your doctor to recommend a laminectomy are a herniated spinal disk or an injury that causes muscle weakness or incontinence. 
Discectomy
This surgical procedure, typically used to repair a herniated disk, involves surgically removing materials in the lumbar spine to relieve pressure on the spinal cord and nerve roots. This procedure may be able to restore a car accident victim with normal movement and function. 
Kyphoplasty
Kyphoplasty is a procedure commonly recommended by doctors for patients who have suffered a spinal fracture after a car accident. Spinal fractures may be extremely painful, so this procedure aims to eliminate that pain by inserting a small balloon in the vertebrae. The purpose of the balloon is to restore the fractured vertebrae to its proper position, relieving pressure. 
Vertebroplasty
This minimally invasive surgical procedure may benefit car accident victims who are suffering from pinched nerves or chronic pain. In this procedure, a doctor will directly inject a cement-like material into your spine in hopes of stabilizing the entire spine. 
Spinal Fusion
Of all spine surgeries listed, spinal fusion is more complex and often the most expensive procedure for a car accident victim. This procedure can help heal major back and spine injuries and relieve pain or numbness in the back. When performing a spinal fusion, a doctor will fuse two spinal vertebrae to heal as one solid bone. 
Pennsylvania Car Accident Attorneys Can Help with Your Injury Claim
Sustaining a neck, back, or spine injury following a car accident can leave you feeling helpless. While spine surgery may help heal your injury, the medical costs these types of procedures incur can bring about another form of stress. If you are thinking about filing a personal injury claim, hiring an experienced Pennsylvania car accident attorney may be helpful in pursuing compensation for the damages you suffered as a result of your injury. 
 Rubin, Glickman, Steinberg, and Gifford are a team of Southeastern Pennsylvania car accident attorneys with extensive experience helping victims of car accidents seek compensation for their damages. They have served clients for over 65 years, providing them with the dedicated representation they deserve. For a free consultation, call (215) 822-7575 or contact us here.