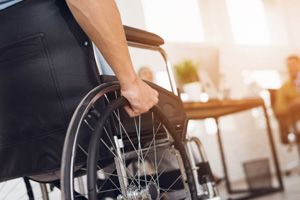 Being involved in a car accident can be traumatizing for the drivers and passengers involved. However, while many injuries suffered by car accident victims can be damaging, one of the worst scenarios to suffer as a result of a crash is to become paralyzed. Suffering paralysis as a result of a car accident can leave a person feeling helpless as they adjust to this life-altering injury. If you have been paralyzed after a car accident, there are essential steps you should take to ensure your overall well-being.
Rubin, Glickman, Steinberg & Gifford, P.C. is a team of award-winning personal injury lawyers with over 65 years of experience helping clients who have suffered paralysis as a result of a car accident. After being paralyzed, you will likely spend the rest of your life in a wheelchair, needing assistance to complete everyday tasks. Your entire life will be different. That is why our team is dedicated to helping you file a claim to get the highest possible amount in compensation to help you get justice for your losses.
Steps to Take After Being Paralyzed in a Car Accident
Becoming paralyzed as a result of a car accident is a huge loss to the victim. A car accident victim who has suffered paralysis may have their entire life turned upside down as they adjust to their new reality. Paralysis is considered a catastrophic injury because the injury impairs the spinal cord. An individual who is now paralyzed will likely incur millions of dollars in medical expenses and other losses due to this injury.
If you are now paralyzed from a car accident that was caused by another party's negligence, it is your right to file a personal injury claim. A personal injury claim will allow you to pursue fair compensation for the losses you have suffered. While nothing can make up for the immense loss of your mobility, getting compensation may help ease the financial burden and provide some justice.
After being paralyzed in a car accident, there are essential steps to take to help your claim:
Gather Evidence
Following a car accident, there may be photos or videos that were taken after the incident that could be helpful to your claim. You should collect this evidence along with any medical bills, doctor's notes, or eye witness statements that may also provide strong evidence for your personal injury claim.
Request a Copy of the Police Report
It is always important to call law enforcement to the scene of a car accident. Not only will they help get victims to safety, they will also file a police report which is a key component of any personal injury claim. You may request a copy of the police report to help your claim.
Contact a Personal Injury Lawyer
Insurance providers will always try to award the lowest possible amount in compensation for a personal injury claim. Even in a case where the victim has suffered a catastrophic injury like paralysis, it is highly beneficial to have the help of a trusted personal injury lawyer to help you negotiate a fair settlement amount.
Working with a trusted lawyer is crucial to ensuring that you are able to bring a strong claim as you pursue justice for your immense loss.
What Damages Can You Collect After Being Paralyzed in a Car Accident?
Catastrophic injuries like paralysis often result in expensive costs due to the medical needs of the victim. An individual who has been paralyzed may have to make major changes to their daily life as they may no longer be able to live on their own or complete certain daily tasks. Some of the damages you may be eligible to collect after suffering paralysis include:
Medical expenses
Lost wages
Lost earning potential
Pain and suffering
If you are unsure what damages you may be eligible to collect, an experienced personal injury lawyer may be able to help by going over the details of your claim.
Get Help From a Pennsylvania Car Accident Lawyer
Our legal team is composed of well-versed legal professionals who are dedicated to helping clients who have been paralyzed due to a car accident in Pennsylvania. We have over 65 years of experience and will examine the facts and circumstances surrounding your case to help you get the fair compensation you deserve. Call (215) 822-7575 or fill out our contact form to schedule a complimentary consultation.