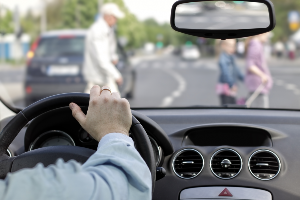 The Centers for Disease Control (CDC) reports that more than 6,590 pedestrians were killed in traffic accidents in 2019—the highest number in nearly 30 years. In their report, researchers examined a number of variables that could be influencing the rise of pedestrian deaths, including the safety of road crossings, unsafe driving behaviors, cell phone use, and the increased presence of SUVs on the road. Of all the demographics of pedestrians, those most at risk for injury or death are elderly adults, children, and pedestrians with a disability.
In the majority of states, pedestrians have the right-of-way, but this does not always guarantee a driver will be assigned fault for a pedestrian-car accident. While drivers are more commonly assigned fault in these accidents, it is not always a given. There are a variety of ways pedestrians can be negligent, too. If you have recently been involved in a pedestrian-car accident, it is essential to seek counsel from a skilled personal injury lawyer. Here is some helpful information to know about pedestrian-car crashes in Pennsylvania.
Driver Negligence in Pedestrian-Car Accidents
In a lot of pedestrian-car accidents, the driver is the negligent party. Drivers can be assigned fault in a pedestrian-car accident if they were engaging in distracted driving behaviors—such as texting or eating—as well as if they failed to yield to a pedestrian who had right-of-way. Drivers who were speeding, disobeyed traffic signals, or were under the influence are almost always found at fault in a pedestrian accident. Additionally, drivers are expected to drive with extra caution when young children are present on the road. Therefore, if a young child was involved in the accident and the driver did not take extra precautions, they may be charged with fault for the crash.
Pedestrian Negligence in Pedestrian-Car Accidents
In some cases, pedestrians can be found at fault for a pedestrian-car accident. Just like drivers, pedestrians are also required to take certain actions, obey road rules, and take extra precautions when crossing the road. For example, a pedestrian who walked against traffic and disobeyed traffic signals may be determined negligent in an accident. Additionally, walking or running into the flow of traffic could also be grounds for a pedestrian to be found at fault. Pedestrians must also use designated crosswalks, so if they choose to walk between cars instead of at a crosswalk, they may also be at fault.
Can Both Parties Be at Fault?
Sometimes a car-pedestrian accident is the result of negligence from both the driver and the pedestrian. In these cases, both parties may be assigned fault, which can affect their eligibility for compensation.
Pennsylvania follows a 51 percent comparative fault law. This means that during negligence claims in Pennsylvania, each party is assigned a percentage of fault that reflects how much their action (or inaction) contributed to the crash and any sustained injuries or property damage. In Pennsylvania, plaintiffs can only recover compensation if they were less than 51 percent at fault. This means that if a jury or judge determines you to be more than 51 percent responsible, you are unable to receive any compensation for your damages. Pennsylvania's comparative fault laws can be tricky to navigate, which is why it is best to have a skilled personal injury lawyer on your side.
Get Help from an Experienced Pennsylvania Personal Injury Lawyer Today
If you have suffered injuries in a pedestrian-car accident in Pennsylvania, you will need to secure expert legal counsel. A skilled attorney can negotiate with the insurance companies and handle the claims process for you. At Rubin, Glickman, Steinberg & Gifford, our car accident attorneys are committed to securing full and favorable compensation for our clients' medical costs, property damage, and lost wages. While there will never be enough money to fully repay a victim for their losses, a fair settlement can provide some much-needed relief.
For over 65 years, our personal injury attorneys have advocated for our clients' best interests in Montgomery County and throughout Pennsylvania, recovering millions of dollars for our community members. To schedule a free case review with a skilled personal injury lawyer, complete a contact form or call today at 215-822-7575.