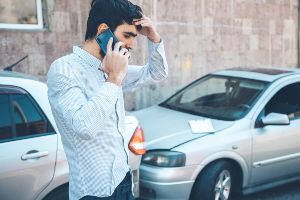 After sustaining an injury from a car accident, it might be one of your first instincts to call your car insurance company to inform them about the accident and your need for medical attention. However, there may be several risks of talking to your insurance company before an experienced and qualified lawyer. It is critical to remember that insurance companies may not have your best interests at heart and could ultimately handle your claim in a way that protects their bottom line instead of you. On the other hand, a lawyer has the expertise to protect your interests and ensure you get fairly compensated for your claim.
Risks of Talking to Your Insurance Company before a Car Accident Lawyer
Despite friendly employees and pleasant phone conversations, it is essential to remember that your car insurance company is not on your side. During your conversations with your insurance company, they will be looking for ways to pay you as little as possible. Statements that could be construed as an admission of fault or minimizing your injuries could end up being used against you by your insurance company.
Additionally, an insurance adjuster does not have any obligation to ensure all of your damages are covered. They may try to push you towards a settlement before you know the full extent of your medical needs. You may need to take more time off of work than you originally anticipated or require long-term care to recover from your injuries. If you settle early, not all of these costs will be covered.
Advantages of Talking to an Experienced Car Accident Lawyer before Your Insurance Company
Regardless of the extent of your injuries, talking to a car accident lawyer can only serve to benefit your claim. An experienced lawyer can give you their informed opinion on your legal options as well as the likelihood of your insurance company denying your claim or offering you less compensation than you deserve.
Hiring a lawyer can ensure that you are both represented and guided through every step of the claim process. Your lawyer can even talk to your insurance company on your behalf to protect the full value of your claim. Hiring a lawyer can also give you peace of mind, knowing your claim is in good hands. Getting the most compensation possible is in your lawyer's best interest as well as your own.
Experienced Pennsylvania Car Accident Lawyers Are Here to Help
If you have been injured in a car accident and are unsure of what to do next, contact the experienced attorneys at Rubin, Glickman, Steinberg, and Gifford. We are here to help you through the entire claim process and talk to your insurance company on your behalf. We have provided our clients with expert care and dedicated legal assistance for over 65 years. Before calling your insurance company, contact our office to schedule a free consultation by calling (215) 822-7575 or by filling out our online contact form.