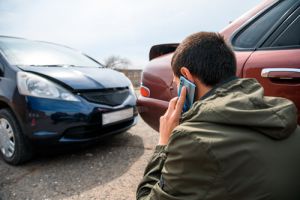 When you've been injured in an accident, determining who was at fault is integral to moving forward with a personal injury claim. How is fault determined though? Are you still entitled to compensation if you were partially to blame for the accident? We answer these commonly asked questions and more in today's blog.
How is Fault Determined?
All personal injury cases must have the following elements present:
The plaintiff was owed a duty of care
The defendant breached that duty of care
The plaintiff suffered injuries as a result of the breach
The injuries can be financially compensated for
Based on this information, if a driver was struck by another driver who was texting at the time of the accident, the distracted driver would most likely be deemed to be at-fault for the accident. This is because all drivers on the road owe a duty of care to those they share the roads with. As such, texting while driving would be in direct violation of the duty of care that was owed to the plaintiff. If the driver who was struck suffered injuries, such as a traumatic brain injury and was unable to return to work, the negligent driver would be at-fault and the plaintiff's injuries would be able to be compensated.
Can I Recover Compensation if I Was Partially At-Fault for the Accident?
Pennsylvania follows a modified comparative fault rule in cases where both parties are determined to be at fault for an accident. When someone is found to be partially at fault for their injuries, their compensation award is reduced by their percentage of fault in the accident. Let's take a look at the example of a distracted driving accident mentioned above. Let's say that the driver who was struck by the distracted driver sped through a red light moments before the accident. If the jury finds that driver to be 40 percent at fault for the accident, then their compensation award will be reduced by 40 percent. So, if the jury originally awarded the driver $100,000, the plaintiff would walk away with 60,000 due to their shared role in the accident.
It's important to note that since Pennsylvania is a modified comparative fault state, any driver who is found to be more than 50 percent at fault for an accident forfeits their right to compensation.
If you've been injured in a car accident, it's important to consult with a personal injury attorney as soon as possible. At Rubin, Glickman, Steinberg and Gifford, P.C., we will thoroughly investigate your case and fight to make sure your rights are protected.
Contact A Colmar Personal Injury Lawyer To Discuss Your Motor Vehicle Accident Case In Pennsylvania
Did you or a loved one sustain serious injuries due to a motor vehicle accident in Pennsylvania? Don't let the medical bills pile up. You need an aggressive personal injury attorney on your side, fighting to get you the compensation you need, want, and deserve. The skilled attorneys at Rubin, Glickman, Steinberg and Gifford, P.C. represent clients in Newtown, Doylestown, Lansdale, King of Prussia, Norristown and throughout Southeastern Pennsylvania. Call (215) 822-7575 or fill out our online contact form to schedule a consultation about your case. We have an office conveniently located at 2605 N Broad St, Colmar, PA 18915, as well as an office in Newtown, PA.
The articles on this blog are for informative purposes only and are no substitute for legal advice or an attorney-client relationship. If you are seeking legal advice, please contact our law firm directly.