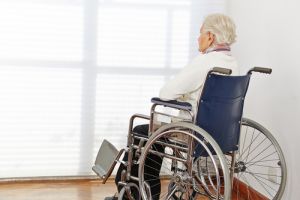 When your loved one is a resident in a nursing home or other assisted living facility, you trust that they will be treated with care and respect. Unfortunately, nursing home residents can fall victim to various forms of neglect and abuse. It's important to be able to recognize the signs of abuse or neglect for when you visit. Find out what they are below.
Common Types of Nursing Home Abuse
Nursing home abuse and neglect come in various forms. Most commonly, these include:
Physical abuse
Financial abuse
Sexual abuse
Emotional abuse
Healthcare fraud
Neglect
Warning Signs of Physical and Sexual Abuse
Oftentimes, friends and relatives may suspect that abuse has occurred if they see unexplained injuries on their loved one. This is one of the most common and significant warning signs that physical abuse has occurred. It's important to be on the lookout for:
Burns or significant scarring
Broken or fractured bones
Bruises
A sexually transmitted disease diagnosis
Bruising and/or swelling around the genitals
Warning Signs of Financial Abuse and Healthcare Fraud
According to the National Adult Protective Services Association, only one out of every 44 cases of financial abuse is reported. This shows just how underreported this type of elder abuse is and oftentimes, it's discovered after the damage has already been done. Below are some important signs to be on the lookout for when it comes to financial abuse and healthcare fraud.
The resident has entrusted the caregiver to handle financial affairs
The resident undergoes excessive medical testing
The resident is unable to pay their monthly bills
The resident is unable to explain financial transactions
The resident has unnecessary treatment and/or equipment
The caregiver is unable to explain the need for medical treatment and/or equipment
Warning Signs of Emotional Abuse and Neglect
As with any form of abuse, it's important to take note of any changes. In terms of emotional abuse and neglect, these changes can come in the form of:
Unexplained weight loss
Soiled clothing and/or bedding
Bedsores
Withdrawal from social activities
A noticeable change in personality and normal behavior
Unkempt living space
Medication errors or omissions of medication
The resident's living space lacks heat, blankets, water or electricity
The resident looks unkempt
The resident is kept isolated from family and friends
If you think anything is out of the ordinary, it probably is. At Rubin, Glickman, Steinberg and Gifford, P.C. we understand that nothing is more important than your loved one's safety and well being. If you suspect that your parents, aunt, uncle, grandparent or any other relative is being abused or neglected, call us right away for a consultation. We will get you the help you and your loved one deserves.
Contact A Lansdale Nursing Home Abuse Lawyer To Discuss Your Case Today
Seniors in nursing homes and other care facilities deserve to be treated with respect and dignity. Additionally, nursing home staff needs to ensure that patients are safe and secure at all times. If your loved one suffered an injury, or worse, due to nursing home neglect and abuse in Pennsylvania, you need to speak with a qualified attorney. The experienced nursing home neglect attorneys at Rubin, Glickman, Steinberg & Gifford, P.C. represent clients throughout Montgomery and Bucks Counties in Pennsylvania, including Newtown, Doylestown, King of Prussia, and Norristown. Call 215-822-7575 or fill out the online contact form to schedule a consultation today. We have an office conveniently located at 2605 N. Broad St., Colmar, PA 18915, as well as an office in Newtown.
The articles on this blog are for informative purposes only and are no substitute for legal advice or an attorney-client relationship. If you are seeking legal advice, please contact our law firm directly.