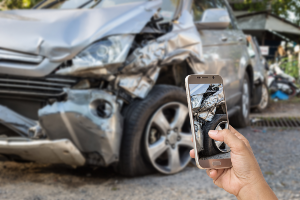 The immediate aftermath of a car crash is hectic and stressful. You might be still sitting in the wrecked vehicle, feeling overwhelmed. Your first priority should be ensuring that you or your passengers are not suffering from any life-threatening injuries. If not, go to a safe location and wait for the police to arrive. During the chaos, you might not think about taking photos of the accident scene. Having pictures that document the crash might be the difference between a successful and unsuccessful insurance claim.
Despite Pennsylvania roads being empty throughout much of 2020 because of the pandemic, accident-related deaths increased in the state. In June 2020, traffic was down nearly 15% compared to the previous year, but fatalities were 14.6% higher. The increasing number of car accidents makes it more critical than ever to know what to do if you're involved in one.
Why Pictures Are Important to Car Accident Claims
Taking photos is one of the most important things you can do following a car crash. Pictures from the scene can prove physical damage to vehicles and injuries you sustained. Additionally, they might be able to prove causation.
Proving Physical Damage
Having photos that document the extent of damage will be vital to your personal injury case. Make sure to time stamp the images as well. If you do not take pictures with the date on them, an insurance adjuster may question whether the damage was really from the accident.
Showing Injuries
You should also take photos of your injuries. This includes lacerations and burns. Some injuries, such as bruises, won't appear right away. When they do, make sure to document it immediately. It's also a good idea to seek medical care following a car crash. Doctors can diagnose any internal injuries and provide proper documentation for you to use in your injury claim.
Causation of the Crash
Pictures might show which driver caused the crash based on how the vehicles are positioned and other details. For example, skid marks could indicate that a vehicle was traveling too fast, which potentially caused the accident. Additionally, damage to a vehicle's side can show a collision point, helping answer how the accident occurred.
Tips for Taking Car Crash Photos
You can't have too many pictures of a car accident. Photographs will show details you may have missed or forgotten by the time you speak with an attorney. Use your cell phone and take as many photos as possible. You should also capture different angles and perspectives.
Close-up pictures can show the severity of property damage and personal injuries from an accident.
Wide-angle shots should show your surroundings. This includes anything that may have contributed to the crash, such as road hazards, weather conditions, and traffic signs. Ensure there is a common landmark in wide-shot photos so an adjuster does not question their legitimacy.
The Best Time to Take Pictures of a Car Accident
The evidence may change if you wait too long to take pictures. For example, crews usually have road debris cleaned up promptly after an accident, or skid marks may fade away.
Use the time waiting for police to arrive by taking photos, as long as you're not suffering from severe injuries and it's safe to do so.
If you cannot take photos because of your injuries, ask a passenger to do so. Call a friend or family member to see if they can come and photograph the scene if you're too injured to do it. However, there might not be someone close to you. When this happens, take pictures of what you can from your location. Cell phones have excellent cameras and zoom quality.
Contact a Pennsylvania Car Accident Lawyer to Discuss Your Case
If you or a loved one suffered injuries from a car crash in Pennsylvania, contact Rubin, Glickman, Steinberg & Gifford. For over 65 years, we have helped accident victims in Southeast Pennsylvania recover millions of dollars in settlements and verdicts. We have an in-depth knowledge of how personal injury law works, and we know the common tactics defendants and insurance companies will use to blame you for the accident.
You have two years from the injury date to file a personal injury claim in Pennsylvania, so don't delay. The sooner you contact us, the more help we can be. Call (215) 822-7575 or complete our contact form.