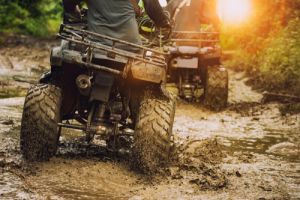 The United States Consumer Product Safety Commission (CPSC) estimates that more than 97,000 people were treated in emergency rooms for ATV-related injuries in 2016. On average, 564 adults and 123 children under 16 are killed while riding on these recreational vehicles every year. These devastating statistics highlight the importance of following ATV safety rules for Pennsylvania motorists.
ATV Safety Rules on Pennsylvania Roads
The ATV Safety Institute recommends that all ATV riders adhere to eight golden rules:
Each individual must wear safety gear approved by the Department of Transportation.
Gear should include a helmet, goggles, gloves, long pants, long sleeves, and over-the-ankle boots.
Like a motor vehicle, never operate this vehicle under the influence.
Additionally, these vehicles are meant to be operated off the highway, so don't ride on paved roads except where permitted.
Ride only at safe speeds on designated trails.
Riders under 16 should be supervised at all times, and each ATV should be age-appropriate for the rider.
Don't carry multiple riders on single-rider ATVs.
The ATV Safety Institute additionally recommends taking free courses on rider safety.
Can an Attorney Help If You Were Injured in a Montgomeryville ATV Accident?
ATV-related injuries can be severe and even fatal, depending on the circumstances surrounding the accident. If you were injured on an ATV in Pennsylvania due to someone else's negligence, then it's important to seek out legal counsel to determine your options. It may be possible to recover damages you've incurred as a result of your injuries, including medical bills, lost wages from missed work, and property damage. Our powerful team of Southeastern Pennsylvania personal injury attorneys at Rubin, Glickman, Steinberg & Gifford P.C. are determined to provide you your full financial restoration to which you are entitled. We represent ATV accident victims in Montgomeryville, Ambler, Harleysville, Holland, Chalfont, New Britain, and everywhere else in Montgomery County and Bucks County, PA. Contact our firm now at 215-822-7575 for more information.
The articles on this blog are for informative purposes only and are no substitute for legal advice or an attorney-client relationship. If you are seeking legal advice, please contact our law firm directly.